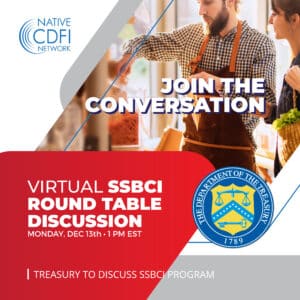 On Monday, December 13th, 2021, the second SSBCI roundtable discussion took place between tribal leaders, Native CDFIs, and the U.S. Treasury. This event was held virtually with the purpose of continuing the conversation that initially started at the first SSBCI roundtable session on Monday, December 6th, 2021.
The Native CDFI Network was honored to have U.S. Treasury's James Clark (Outreach Manager, SSBCI), Ronald Kelly (Outreach Lead), and Jeffrey Stout (Director, Office of Federal Program Finance) join the discussion to answer SSBCI related questions.
Ron Kelly started the session by giving a brief update about SSBCI deadlines and future Zoom meetings that the U.S. Treasury will be hosting. The tribal community asked a wide array of questions concerning the SSBCI program and its applications during the session. Topics covered included geographic eligibility, lender partnerships, and private capital collateral. The U.S. Treasury will also be hosting a Zoom Webinar on December 17th at 4 PM EST to give an overview of SSBCI Venture Capital Programs.
"A very momentous opportunity for our tribal nations. Thank you to the U.S. Treasury for their support!," said Lakota Vogel with Four Bands Community Fund.
"We're looking forward to working with NCN. We think you will be crucial to making this program work. Thanks for everything you are doing," said Jeffrey Stout, Director of the Office of Federal Program Finance at the U.S. Department of the Treasury.
The Native CDFI Network has been actively involved in providing support for Tribes and Native CDFIs that support the implementation of economic recovery efforts of our Tribal nations and our Native-owned small businesses. The panelists provided an opportunity to participate in a Round Table Discussion and ask the Treasury questions about the SSBCI program.
The Overview of SSBCI Venture Capital Programs will be hosted on Friday, December 17, 2021 at 4 pm EST. Please register for this session if you are interested.
View the round table discussion in its entirety below.