With more than 70 Native community development financial institutions and supporters, the Native CDFI Network (NCN) is the leading industry organization supporting Native CDFIs across Indian Country. NCN strives to ensure that Native peoples are represented in the national policy dialogue and to spread the innovative solutions created by CDFIs throughout our Native communities. Most importantly, it provides an extended community where Native financial professionals can share proven models and ideas to restore native economies and foster thriving communities.
As a member of the Native CDFI Network you will be part of a collective voice advocating for expanded access to capital and promoting the role of Native CDFIs as vital providers of financial products and services in Native communities. Your participation will help build support for our advocacy and leadership on legislative and policy matters at the federal level, particularly within the CDFI Fund and the Department of the Treasury.
You should become an NCN member if you are:
a Native CDFI that wants to be actively involved in policy advocacy to increase resources for and advance the role of Native CDFIs in supporting thriving Native economies.
an organization that works in related fields that support the work of Native CDFIs.
an individual who is working with or is supportive of the mission of Native CDFIs
Membership Structure & Eligibility
NCN offers annual membership plans for Native CDFIs, individuals, for-profit and non-profit organizations. Each membership level plays a unique and vital role in growing the Network, strengthening the Native CDFI industry, and informing policy that is supportive of Native economic development strategies. The chart below includes more information about the membership levels, benefits, and dues. Please review the plans in to decide what level is right for you, then scroll down to select a membership level at the bottom of the page.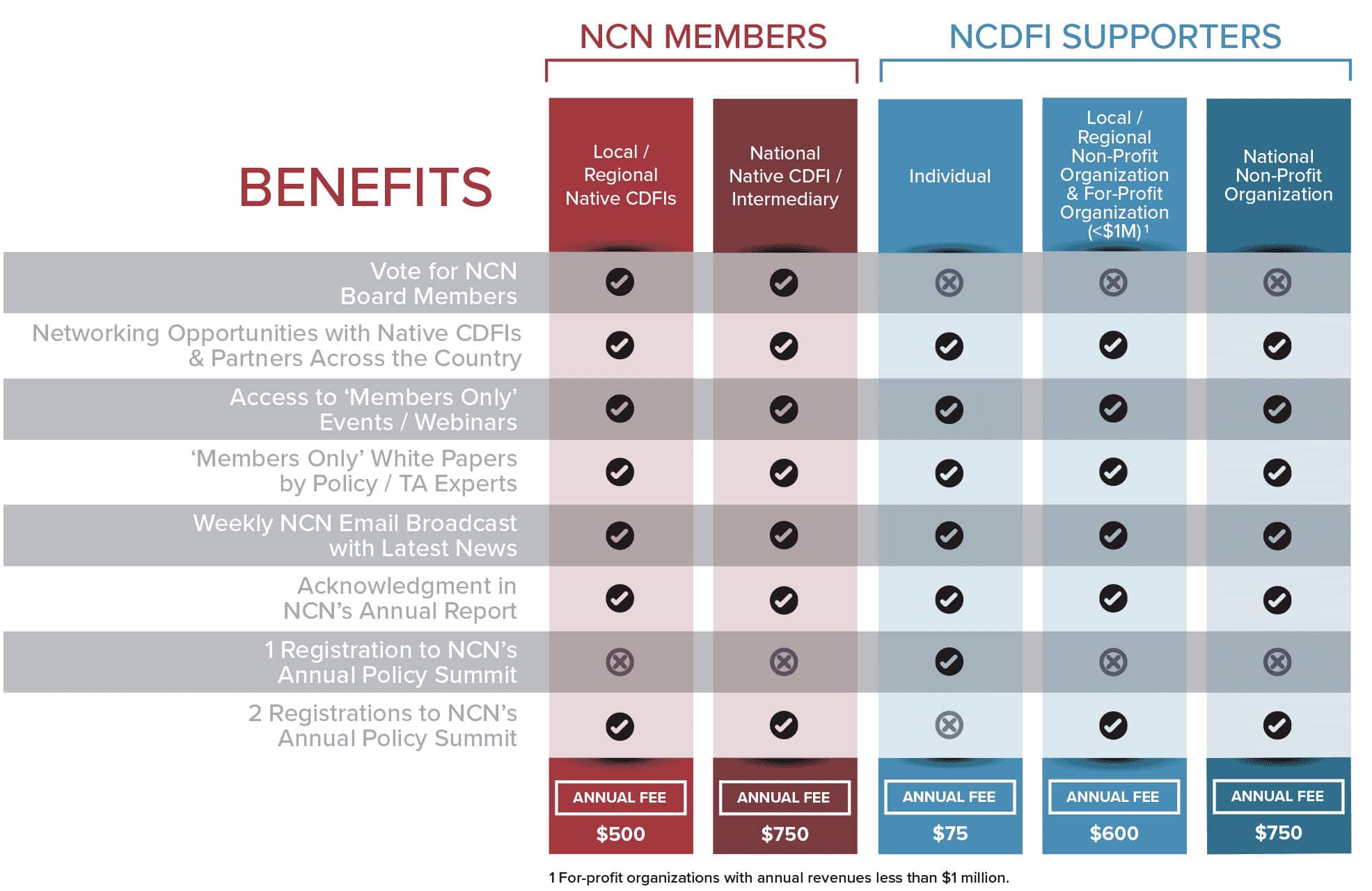 Apply Now
| Level | Price | |
| --- | --- | --- |
| Members - Local / Regional Native CDFIs | $500.00 per year | Select |
| Members - National Native CDFI / Intermediary | $750.00 per year | Select |
| Supporters - Individual | $75.00 per year | Select |
| Supporters - Local / Regional Non-Profit & For-Profit Organizations | $600.00 per year | Select |
| Supporters - National Non-Profit Organization | $750.00 per year | Select |
Already a member? Connect with NCN through the Member Portal to access your member services and resources. 
Please send any questions you have about NCN Membership to [email protected].
Membership Terms
Membership dues are based on an annual flat rate as described above and will begin on January 1 of each calendar year. Memberships can be processed at any point during the year at current rates and will be prorated based on your date of enrollment.
Listing Individuals on Your Membership
With membership dues, each organization/entity (excluding single members) may list up to 5 individual contacts under their membership. The individuals listed will be able to take advantage of member benefits described above (i.e. access to the online learning center, deeply discounted registration to annual member meeting, etc).
Membership can be terminated if the member:
Fails to pay dues.
Ceases to satisfy the eligibility requirements.