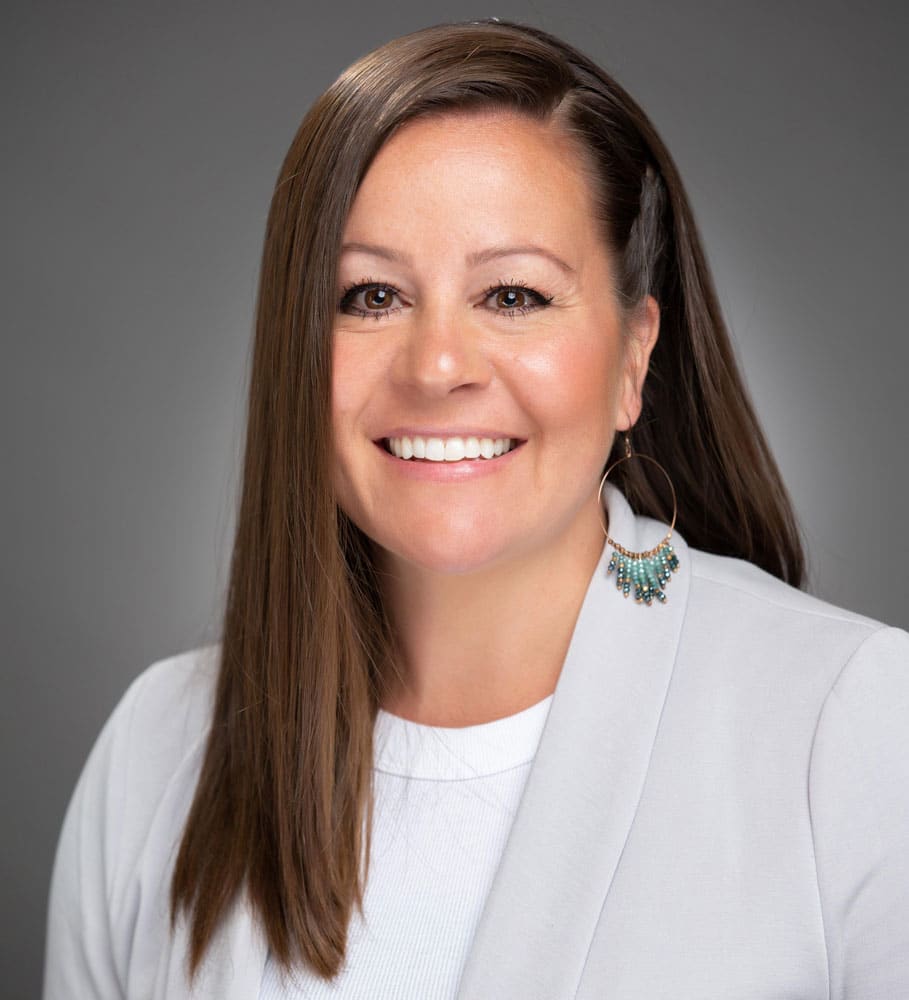 In this latest edition of "Difference Makers," NCN sits down with Sara Barbour, who serves as Deputy Director of the Yurok Economic Development Corporation (YEDC) and Acting Executive Director of the Yurok Tribe's The Alliance CDFI. A federally certified Native CDFI located in northern California, Alliance's mission is to "promote economic and financial assistance, small business development, and build assets within the Tribe's jurisdiction among tribal members, improving the quality of life for its peoples and communities."
Sara helped reorganize and recertify The Alliance CDFI when she started with YEDC in 2018. She is also a part of the Del Norte Economic Resiliency Task Force, which provides extensive support and assistance to small business owners throughout Del Norte County. Prior to her work with Alliance and YEDC, Sara worked for several years in housing, both for the Yurok Tribe and City of Crescent City.
In this engaging conversation with NCN, Sara shares The Alliance CDFI's emergence as an asset-builder and small business developer in the Yurok community, and how Alliance helped Yurok small business owners withstand the COVID-19 pandemic and grow stronger.
NCN: Why do you do what you do? How did you come to lead Yurok's Alliance CDFI?
Barbour: It was kind of by accident, actually. I don't have a formal background in finance or lending, but I strive to do things that help people. That's what makes me happy. Being able to provide a service to tribal members that is helpful in their life in one way or another is what pushes me to continue doing this work. Sometimes, the objective may seem relatively small. Other times, it's bigger – things like starting a business or buying a home. Running The Alliance CDFI was just given to me as a task. But through learning, being self-taught, figuring out this whole world of Native CDFIs and CDFIs in general, I learned a lot, and I grew a passion for what CDFIs can do for local communities. Ultimately, I would love to see a workforce center with a small business incubator program to help expand our local economy. Lending is just a small part of what CDFIs have the potential of doing. My goal is to create a support system that provides local business owners with hands-on training and resources to help when they need it. The Alliance CDFI will eventually offer industry specific trainings and coaches to make sure our business owners succeed. Over the last four years, I have met so many wonderful people working in the Native CDFI space. The networking is amazing. The people at other Native CDFIs are super helpful. We all serve a common goal of empowering and bettering the lives of local tribal members. That's what keeps me going in this business each day.   
NCN: As you know, there are more than 70 federally certified Native CDFIs across the country and many more "emerging" CDFIs following in their footsteps. Why did Native communities feel it necessary to create CDFIs, and what fundamental role do they play?
Barbour: It's the common thread of access to capital. There's a lack of that access across rural communities, tribal communities in particular. There are financial products that are not offered to rural communities and minority populations and that's not okay. Tribal communities are standing up and we're figuring out ways to be creative to get those products to the members that need them. Tribal communities can't be ignored. We can't be cut out of the funding that is provided to the rest of the states and other local municipalities. We're learning how to band together and have our voices heard and fight for those dollars to come into our communities and have them serve our members in a meaningful way. It's not a cookie-cutter solution that works the same for everyone. Those that work in Indian Country understand you have to be creative and think outside of the box. By having your own Native CDFI, you're able to create those packages that are not so cut and dry. It's not black and white. We are creating different solutions that work for different people that traditional banks wouldn't even touch. It's really amazing what Native CDFIs can do for the communities that they work in.
NCN: What do policymakers and the general public need to understand about Native CDFIs and the difference they make?
Barbour: Often, we hear, "Why don't tribal members just go to Bank of America or the local bank down the street? What purpose do you serve that isn't being served by a traditional bank?" The truth is when it comes to access to capital, Indian Country has been at the mercy of government programs. The rural, undeveloped nature of most Indian reservations puts them far from markets and everyday necessities, not to mention medical care. Generations worth of federal policies have undermined the recognition and sovereignty of tribal nations, which have left tribal communities without adequate support from the federal government, including financial services that are otherwise easily accessed by other communities. A lot of it has to do with our rural location. Those financial products just aren't available to us. Tribal nations are not afforded the same opportunities in business creation and home ownership because our communities simply lack the necessary infrastructure. Our current leadership is trying to change that, and part of that process are tribal initiatives like Alliance CDFI that will eventually grow to be something much bigger that can bridge those gaps. Our CFDI is still relatively small, but we're in the process of getting a few employees under me to help create more capital. We'll go after different grants, get that capital out there. Once we grow our portfolio, it'll just be a game changer. We're not quite there yet, but we have goals and we're getting there.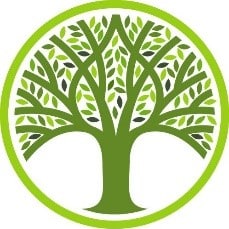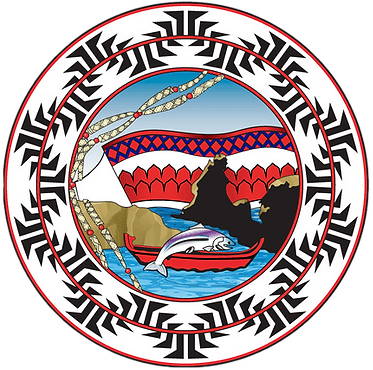 NCN: Tell us more about Yurok Alliance CDFI. What is its mission, and how does it work to foster prosperity in the communities it serves?
Barbour: So as you stated in introducing me, Alliance's mission is to promote economic and financial assistance and small business development and build assets within the tribe's jurisdiction among the Yurok Tribe's members, improving the quality of life for its people and communities. What we're trying to build is a place where they can go to start their business, clean up their credit, or consolidate debt. Rural community members tend to fall victim to those high-cost lending entities because they just don't have another option, right? Maybe their home is on trust land, so the bank doesn't recognize that as legit collateral. Or perhaps due to their family's financial history they just don't have the same opportunities for small business development. When you apply for a small business loan at a traditional bank, you have to have something of value that's technically of higher value than the loan you're going after to secure that loan. Well, if they had that, they might not be asking for the loan. If we're not willing to take a chance on our community members and the tribal members here, who else will? Alliance currently doesn't have enough funding to facilitate a home ownership program, but we are bridging the gap by connecting tribal members with resources to get them to that spot. If they're not quite ready for a small business loan, I put them in touch with other resources that can get them one-on-one counseling to help them create their business plan. A solid business plan is typically one of those huge components to a small business loan. It's not just about the money. We want to improve their credit so that maybe they can go to that bigger traditional bank that does have the money. We want to help them reach that goal, whatever it may be. For too long, they have been subject to predatory payday lenders and they think, "That's just the way it is. It's a vicious cycle, and I can't get out of it." Even if that's the only service we can provide – helping them get out of that cycle – that's a win to me. Helping them make their money work harder for them is success in my book.
"It's not a cookie-cutter solution that works the same for everyone. Those that work in Indian Country understand you have to be creative and think outside of the box…We are creating different solutions that work for different people that traditional banks just wouldn't even touch."
NCN: Let's talk about the pandemic. When COVID hit in 2020, the federal government responded with the CARES Act. The Yurok Tribe received its CARES Act allocation and turned around and gave $2 million of that funding to Alliance to make good on those relief dollars. Can you talk about why that decision was made and how Alliance had to shift on the fly to make sure that money achieved maximum impact?
Barbour: Tribal Council recognized Yurok member-owned small businesses were hit hardest right out of the gate with the pandemic. And then there were a smaller portion of those Yurok small businesses who the state government didn't technically consider "legit" businesses on paper in terms of licensing and certifications. We have a lot of artists, jewelry makers, and small business owners who live and work on the reservation and don't have a traditional business license. They're not necessarily recognized by the state and therefore wouldn't be able to qualify for some of those loans and grants SBA [the U.S. Small Business Administration] was offering. Tribal Council recognized that and knew that to meet this need, we had to get the money out fast because a lot of their businesses are also cash businesses, so there's not a paper trail we can rely on to show verification. Yurok Tribe has a TERO [Tribal Employee Rights Ordinance] department. A lot of tribal members have certified their businesses through that department as certified vendors or tribal artists. So we were able to verify their history of business through that mechanism. Depending on the amount of revenue lost, that was the size of grant we were allowed to approve. The smaller businesses were capped at about $10,000. But then we have some tribal members who own large businesses and corporations. Regardless of their location, if they were tribal members, we were able to provide them assistance as well. The largest grants we did were $100,000. To launch this grant program, The Alliance had to change gears, we didn't have any kind of grant opportunities like that under our current programs. Our small business loans have stricter eligibility guidelines. But because these were grants, we streamlined the process. We created a whole new program and were receiving applications within 3-4 weeks. In a matter of 12 weeks, we had processed 260 applications, 198 of which were approved, and we got $2 million out the door into the hands of small business tribal members. It was a huge success.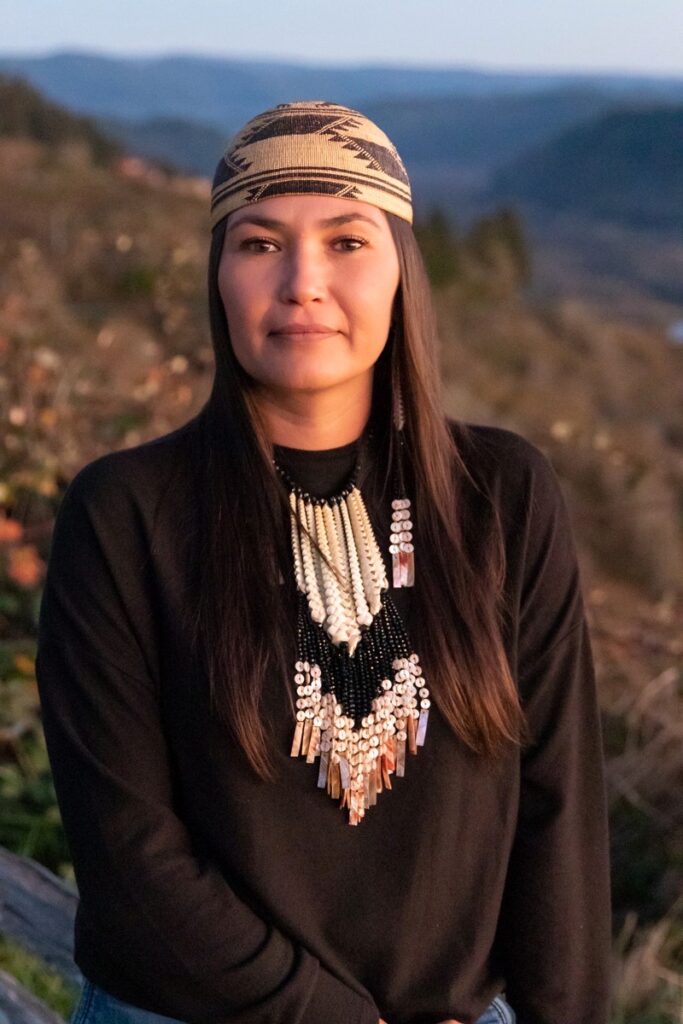 Alliance client Louisa McCovey, owner of Louisa McCovey Art & Design (Courtesy: The Alliance CDFI)
What made me feel so good about that program was they weren't just using the money to live on. It wasn't just about replacing the revenue they had lost. They were rethinking their businesses and rebuilding them. People that typically had just set up vendor booths at fairs and festivals took that money and created online websites and they were able to reach a whole different audience. Their businesses took a 180-degree turn, and they're more successful now because they're reaching so many more customers. They seized the opportunity to grow their businesses.
NCN: Yurok Alliance CDFI has helped an extraordinary number of people. Is there an individual's client success story that really sticks out to you, that really inspires you?
Barbour: I'd like to share Louisa McCovey's story. She was already a well-known artist in the area and with the COVID relief funding she received through us, she developed a website. Before, she was doing mostly photography, painting, and prints. She expanded into creating jewelry and she does online jewelry inventory drops! She's great at social media and promoting her art. She'll do social media posts announcing the release of new jewelry pieces, say at midnight on a certain day. Every time I've gotten on her website the day after a drop to purchase a pair of her earrings, they're gone. They're sold out, every time. She's done really well for herself. I think the pandemic pushed her to make that online presence possible.
NCN: From your perspective, what do Native CDFIs like yours need to realize their full potential? What support do they need to achieve their missions and maximize their impact?
Barbour: CDFIs, because they are non-profits, some people see them as having no return on investment in monetary terms because they're not necessarily making more dollars. But the community is benefiting in different ways. We're providing tribal members support they would otherwise not have. We go after grants to meet that demand. There's a lot of larger Native CDFIs that will lend me money, but that doesn't always fit the bill. We need money to grow. We need logistics so we can pull credit reports and report back to the credit bureaus. We need our own server. We need our own building with separate access for security measures. A lot of tribes don't have those logistics, which is the boat we're in. While we're certified and we've got some lending under our belts, we're not yet eligible for the big CDFI grants because you need to have X number of dollars on your lending books. We're just not there yet, but we're getting there.
Yurok Tribe and The Alliance CDFI are applying for the State Small Business Credit Initiative, and we're going to do commercial lending to tribal corporations with that money. Once we get that funding and get those loans on the books, it's going to be a game changer because then we'll have the resources to hire additional staff and we'll be able to grow the cycling of money within our community.
To learn more about The Alliance CDFI, please click here.