In this latest edition of "Difference Makers," NCN sits down with Jacqueline Pata, who is President & CEO of the Tlingit-Haida Regional Housing Authority, which oversees Haa Yakaawu Financial Corporation, a federally certified Native CDFI based in Juneau, Alaska. Established in 1996, the award-winning Haa Yakaawu is committed to helping Native people and other community members living in southeast Alaska reach their goals as homebuyers and homeowners.
An enrolled Tlingit & Haida citizen, Jackie also serves as1st Vice President for the Central Council of the Tlingit Haida Indian Tribes of Alaska. From 2001 to 2019, she served as Executive Director of the National Congress of Americans, making her the longest-tenured in the organization's history. Her other previous roles include Deputy Assistant Secretary for Native American Programs for the U.S. Department of Housing and Urban Development (HUD) (where she was responsible for the implementation of the Native American Housing Assistance and Self Determination Act) and Chairwoman of the Native American Indian Housing Council.
In this engaging conversation with NCN, Jackie shares her "full circle" journey in helping to develop housing and fostering homeownership opportunities for Alaska Natives and highlights the cutting-edge initiatives Haa Yakaawu has deployed to do just that.
NCN: Greetings Jackie, it's good to have you with us today. Welcome.
Pata: Nice to be here.
NCN: So why do you do what you do? How and why did you come to lead the Tlingit-Haida Regional Housing Authority (THRHA) and Haa Yakaawu?
Pata: The first time or the second time? The first time around, when I got out of college, I was poor and needed a job. I became a CETA [Native American Comprehensive Employment and Training Act] employee. My tribe sponsored me to be an employee for THRHA. I got really engaged in housing, something I knew nothing about. I fell in love with the housing business. I loved working for our tribe and working with the villages. My family comes from a construction background and I had an accounting background. There were a lot of pieces in my life that fell into housing. Then, President Clinton created the CDFI program, and I was appointed to the very first Community Development Advisory Board for the CDFI Fund. It was during that time that we decided to create and then apply to become a certified CDFI, we became a test case and one of the first certified Native CDFIs in the nation.
I then spent 20 years in D.C., but I always knew I wanted to come home. I kept thinking, "I'm going to come home and do something different." THRHA was in leadership transition. While I was in D.C., the tribe had appointed me to be advisory member of the housing board to help with restructuring. The tribe and the board kept asking, so I came home to THRHA and I thought, "Wow, this is full circle." It's been exciting and energetic to be home and to see the tangible outcomes of the policies that we worked on for so long in D.C.
NCN: As you know, there are currently 64 federally certified Native CDFIs across the country and a growing number of "emerging" CDFIs following in their footsteps. Why did Native communities feel it necessary to create CDFIs, and what fundamental role do they play?
"We see ourselves as an intermediary. 'Haa Yakaawu' means the person who represents your face in Tlingit. In our cultural ways, when we were traders, we would have a representative to represent us in trade. That's what our CDFI is. We're representing our tribal citizens to get them the best deal for them."
Pata: We all know there were literally no financial institutions in Indian Country and certainly not in the Alaska villages. When America looks at its wealth and economy, the housing market and housing starts is one significant measure. That just swept past all of us because housing delivery in Indian Country was basically the HUD model and you had to be low income to be able to benefit. As tribes became more and more successful and there actually became jobs in Indian Country, we found it more and more difficult to have the housing supply to keep young families in our communities. The need for CDFIs to fill that gap became greater and greater. CDFIs are so valuable because they not only provide loans but help transform communities by developing the financial capacity of its citizens. There's a lot of work to do and CDFIs have the flexibility to provide customized service and loan products that larger institutions can't do. They spend one-on-one time with the borrowers, help them build their credit, and provide financial education with a local presence. CDFIs in Indian Country is a way for us to expand our housing market, which help us create stable economies that grow our financial sovereignty as tribal nations.
NCN: What do policymakers, philanthropy, banking institutions, and the general public who aren't familiar with Native CDFIs need to understand about them and the difference they make?
Pata: I recently went to a funders' group meeting that was entirely focused on how to educate other funders and financial institutions about Native CDFIs, because it looks different in each tribal nation. Just as we have autonomous, distinct tribal governments and different cultures, our CDFIs are also different – but the themes are the same. We're about educating our tribal citizens, sometimes starting at a very basic level and expanding as their needs are defined. Native CDFIs have to be solution-oriented – it's not just about making a loan. Sometimes we are about creating an opportunity for a loan to be made. For example, with THRHA, we need new housing. We want great homeowners, but we have to create the housing stock to buy, so we had to find a partner that can build homes. Native CDFIs have to fill gaps beyond just doing a loan. We have to build the capacity of the borrowers for whatever purpose the loan may be for. We want them to be successful. Sometimes that means providing check-ins along the way. We're working in rural and remote communities where there are a lot of challenges. As Native CDFIs, we are a community partner.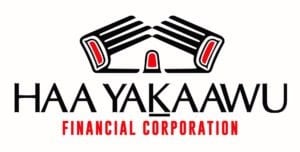 NCN: So let's turn to Haa Yakaawu. Its slogan is simple and straightforward: "Helping Southeast Alaskans reach their goals as home buyers and owners." What forms does this help take in terms of your CDFI's day-to-day work?
Pata: We see ourselves as an intermediary. "Haa Yakaawu" means the person who represents your face in Tlingit. In our cultural ways, when we were traders, we would have a representative to represent us in trade. That's what our CDFI is. We're representing our tribal citizens to get them the best deal for them. We look at ourselves as meeting our borrowers where they're at and creating a pathway to success for them. Our focus was primarily on homeownership mortgages and home renovation loans. We realized we had to deal with the fact there's no new construction happening in our communities or there are no homes to purchase. So we partnered with THRHA, as they build homes with grant funding; Haa Yakaawu provides the mortgages for those homes. We're able to create affordable terms to those that meet the income guidelines of whatever that housing product that was developed. Sometimes that means it's an extended loan term – instead of 30 years, it might be 40 years incorporating a soft second. It also might be down payment assistance, other leveraging components. We explore options to make it work for that particular person. It also may be that our CDFI may not be the one that is providing that loan. We may package a loan and help them with access to a USDA loan, for example, because that product may be a better loan for that person. Our goal is to be that intermediary – get them to the best product for the borrower and their situation.
Then there's also those we help with capacity building loans to improve their credit ratings or remodeling loans, or new construction loans. In our villages, there is a lack of contractors, plumbers, and electricians to install energy-efficient heat pumps or do major renovations on a house that has rot, for example. Some community citizens don't meet the income or other requirements of the renovation programs under THRHA, but they can go to Haa Yakaawu to get a renovation loan, and then the THRHA construction team can do those repairs for them or they can hire another contractor. We even do new construction loans to individuals who are taking it upon themselves to build their own homes with local contractors.
NCN: Recently, Haa Yakaawu was recognized by the Opportunity Finance Network (OFN) with its 2022 Catalyst Award. Why do you think Haa Yakaawu was chosen for this honor?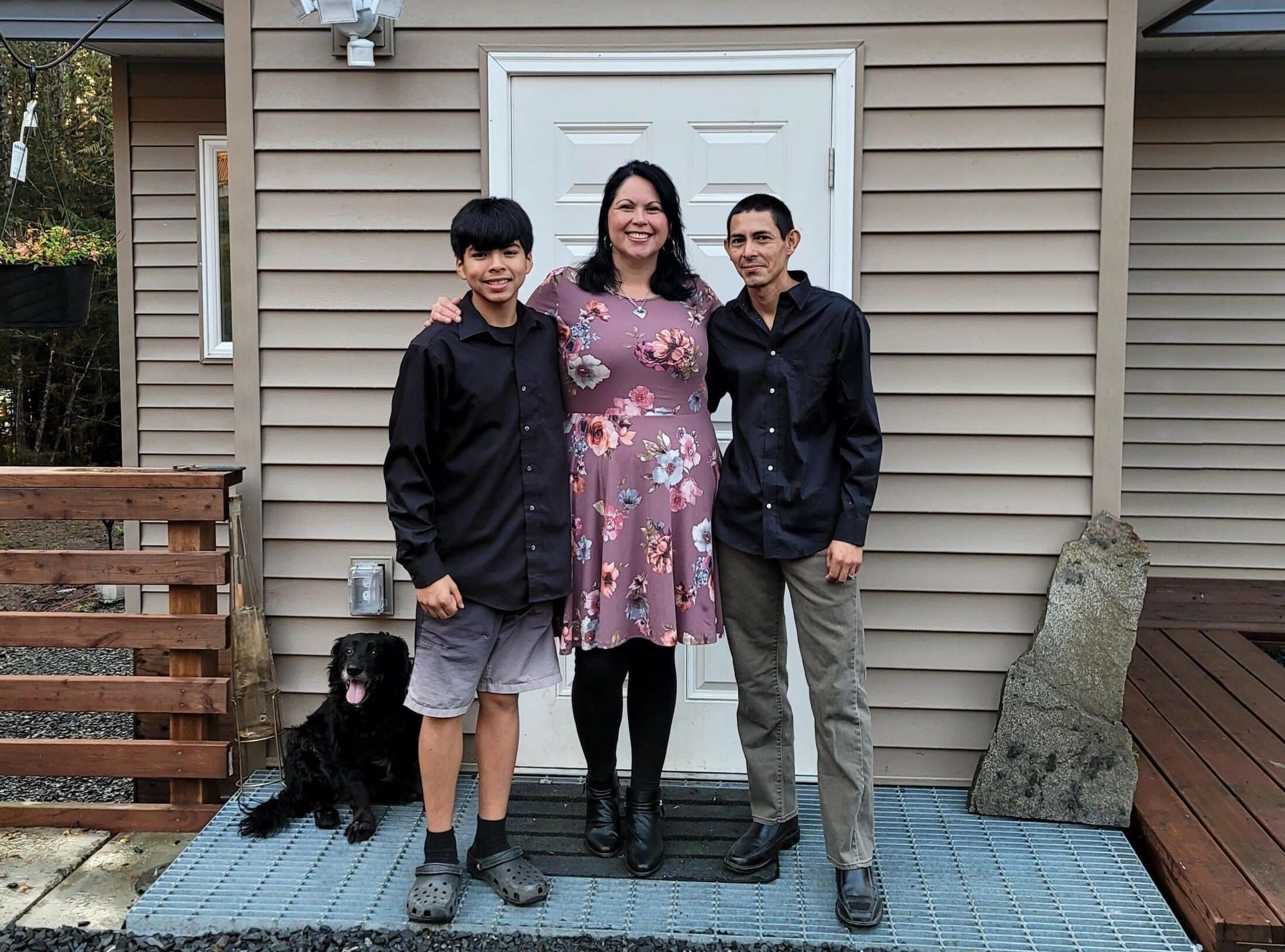 Bulmaro and Delila Ramirez and their family in front of the home they now own thanks to a loan from Haa Yakaawu. (Courtesy: Haa Yakaawu).
Pata: Yes, we were surprised and so excited. OFN actually came to visit our community. They went out to one of the villages to visit with our homebuyers to get that firsthand knowledge of how our program works. I think we got the award because they thought it was innovative to partner with THRHA the way we did. We leveraged a lot of our COVID grant funds during that time period, building homes in several of our communities with mortgages provided by Haa Yakaawu. We really worked with the homebuyers, the communities, and the differences between the communities. We sought as many ways as possible to leverage that mortgage as far as we could or get the cost of construction as affordable as possible. We offered participants the ability to contribute their own sweat equity. OFN was able to visit a couple of the homebuyers that put a lot of sweat equity into their homes to make that home more affordable for them. One of the homebuyers and his sons worked on the weekends to help put up the siding, install flooring, or anything they could do that would reduce the cost of their home. That made a big difference in his purchase price. Then we were able to leverage down payment assistance for some participants, either from the BIA Down Payment Assistance Program or the Federal Home Loan Bank Down Payment Assistance Program. Our goal was to find ways to make a mortgage become a reality and affordable to those that are between 50% and 80% of median income.
NCN: Haa Yakaawu has helped a great number of Native people over the years. Is there a particular success story that really inspires you that you would like to share?
Pata: Shaun is one of the homebuyers I just mentioned. He has such a great story. He started working as one of our crew and was in the apprenticeship program. He never thought he would ever be able to buy a house. He wanted to apply but was nervous about it. He kept saying, "No, I'm not going to." He was just afraid of making a commitment to mortgage payment. But with financial planning he changed his mind. Now he's one of the leads on our construction team. He and his family helped build their house. He wouldn't even let us clean up after the crew got done for the day. He and his wife would come back and clean up so the crew wouldn't charge any labor hours for that. He taught his kids to work with him, and he taught them the value of homeownership and how important it was for them to get this house. I see how he has grown – just as successful in his career as he is with his home. That's really exciting.
NCN: From your perspective, what do Native CDFIs like Haa Yakaawu need to realize their full potential? What types of support do they need to achieve their missions and maximize their impact?
Pata: First, there needs to be a recognition of what we really do. HUD, for example, with all of the housing resources it has, I'm not sure it really understands Native CDFIs and some of the barriers that still exist. I'm on the HUD Secretary's Advisory Committee and I'm looking forward to that being part of the dialogue. How can we better utilize some of those federal resources? South Dakota, for example, being able to pilot the 502 Direct Loan Program – that needs to be expanded to other states. There are also policy decisions that can help give us greater access to lower-interest financing, counseling services, and other things we need. Also, a recognition that we have unique community differences and that our models work for us in our communities and our cultures.
Also, we need to encourage funders to expand capital access programs for Native CDFIs in all parts of the country. We need to examine barriers like lending caps that are not reflective of the costs of new construction and explore implementing cost-based appraisals.
To learn more about Haa Yakaawu Financial Corporation, please click here.