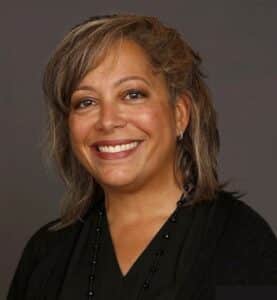 In this latest edition of "Difference Makers," NCN sits down with Kim Pate, who serves as Managing Director of NDN Fund, the investing and lending arm of NDN Collective. A federally certified Native CDFI based in Rapid City, South Dakota, NDN Fund provides debt financing and capacity building services for large-scale resilient and regenerative projects and businesses across pre-development, startup, bridge, and expansion stages that dramatically scale up investment and shift all decision-making power to Indigenous peoples.
A descendant of the Eastern Band Cherokee and Mississippi Choctaw tribes, Kim leads NDN Fund's daily operations and plays important strategy development and communications roles within NDN Collective. Prior to joining NDN Collective, she ran her own consulting business and served as Network Coordinator for the Native CDFI Network. She also served for 15 years as Chief External Relations Officer for Prosperity Now. She has a Juris Doctorate from the University of California at Los Angeles School of Law, and she is admitted to practice in Nez Perce Tribal Court and California.
In this wide-ranging conversation with NCN, Kim shares how NDN Fund's core principles drive its lending and power-building services, and uplifts the value of networking and collaboration between Native CDFIs.
NCN: Greetings Kim, it's good to have you with us today. Welcome.
Pate: Thank you for the opportunity.
NCN: So why do you do what you do? How and why did you come to lead the NDN Fund?
Pate: I appreciate the question because sometimes I look at my background and I wonder how all of my experiences come together. But they really do come together in the management of NDN Fund. That's because for the last 20-odd years, I've been a developer, a light researcher, and I think a programmatic innovator in the Native CDFI space. Over those years, I've seen the field really grow and change. I remember an old Opportunity Finance Network motto, which was "Grow, change, or die." Over the last couple of decades, the Native CDFI field has set the bar for transformative change through financial security, asset building, social enterprise, and other strategies that are necessary for our Native communities to survive. Native CDFIs are sort of my baby in some ways. I helped to incubate the Native CDFI Network when I was with CFED, which is now Prosperity Now, and have worked closely with important drivers of change like the Northwest Area Foundation and others who have put investing in Native communities as a priority for their work. So I've never lost the thread of working in Indigenous communities through financial capability and sustainability.
And then as an attorney that has done a lot of work to support the legal structures that allow us to do this type of innovation, I was intrigued by the opportunity to come to NDN Collective and help create our own Indigenous version of a national organization making the needed investments at scale that can really turn the dial. That's why I'm excited about being the Managing Director of NDN Fund, because we are focused on unlocking the major amounts of capital that are needed for all types of initiatives in our Indigenous communities, making sure there's pre-development funding, construction loans, growth capital, and so on at every lifecycle stage of an enterprise or initiative.
NCN: As you know, there are currently 64 federally certified Native CDFIs across the country and many more "emerging" CDFIs following in their footsteps. Why did Native communities feel it necessary to create CDFIs, and what fundamental role do they play?
Pate: So many of our Native communities are "financial deserts," which means there aren't banks, credit unions, or other financial institutions that offer safe and affordable credit, banking accounts, and other financial products and services that in our society you must have access to in order to deposit a paycheck, get a holiday loan, or other things we know from the market research we do that our Native consumers need. Instead, you have a lot of predatory lenders just lurking on the boundaries. They know there are people that will take a very high-interest payday loan or car title loan or even lease-to-own furniture at exorbitant interest rates. We know Native CDFIs are the antidote to that and are able to offer safe and affordable financial products and services designed to meet the needs of our communities. Native CDFIs are mission-led financial institutions, and we're not successful unless our borrowers and our development services clients are successful. So we're constantly evaluating, "Are we making an impact? What do we need to do better? Does our target market even know we're out here? What can we do to raise awareness? Are we being as effective and are we leveraging as much in the local community as we can? How can we partner better? How do we make sure we get the right kind of entities on our board so we're seeing all the opportunities and then able to seize them? And doing our strategic planning on a regular basis to not only de-risk our sustainability as nonprofits, but ensure we make an even greater impact every year?"
NCN: What do policymakers, philanthropy, banking institutions, and the general public who aren't familiar with Native CDFIs need to understand about them and the difference they make?
Pate: The biggest knowledge gap really is among the people we're trying to serve. I feel like our investors generally get it, and I'm struck every time I get on a call with an investor by how much they already do know about Native CDFIs. So the philanthropic and public sector world are pretty aware. Every single Native community is unique, so we can't aggregate our responses or our lending products and services, right? You must really engage the local community. That's the piece I think is a bit of a sticky wicket for Native CDFIs because the conditions are not even across Indian Country. In some Native communities, the tribe is very supportive of the Native CDFI and the local community has great awareness because of that. In other Native communities, the Tribe is not supportive so there's this big disconnect between the set of products and services the Tribe has approved and what's actually available for people.  There's a constant tension between the entities that exist in the Native community and who's doing what. And then that can change in a heartbeat because a tribal council flips and you have all new people. I feel really lucky I'm on the board of the Nimiipuu Fund here on the Nez Perce reservation, where we have the support of the Tribe and the broader nonprofit sector here, which is key. I've noticed that as we build those relationships to where they're really strong and they have roots, the local community has come into awareness about what we're doing, and they even advise us now when we do our market surveys. They seem empowered to tell us more about what they need and that's a really great place to be.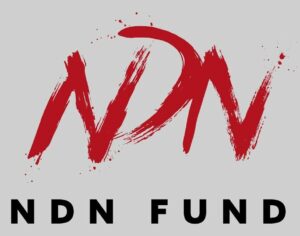 NCN: So let's turn to NDN Fund. According to your website, NDN Fund "prioritizes Sustainable Finance to Strengthen Indigenous-owned Businesses, Tribal Corporations, and Nations." At the heart of this work are your two loan pools. Can you provide us an overview of these loan pools and how they are tailored to the particular needs of Native communities?
Pate: The first loan pool is the Relief & Resilience Fund and the second is the Social Enterprise & Economic Development for Indigenous Growth (SEEDING) Fund. Relief & Resilience came out of our work during the pandemic to ensure there was flexible capital available through grants and loans to help non-profits and small businesses operating in Indian Country keep their doors open. This loan pool was designed to ensure these entities had operating capital to take them into the next phase of their organizational development. That fund makes loans of $10,000 up to $500,000, which is considered the smaller of the funds. Then we have the SEEDING Fund, which is designed to support large infrastructure initiatives. This loan fund helps create new industries, jobs, and prosperity, but it also catalyzes development of business sectors in some communities. I think about some of the lending we've done around food sovereignty, for example, that is now leading to a whole supply chain of additional businesses built around that initial business. There's lots of ways in which these loan pools are helping to shore up existing businesses and create brand-new ones.
NCN: In everything it does, NDN Fund advances three key principles, including one we found particularly instructive for other Native CDFIs – utilization of what you call your "Resilience Impact Assessment." Can you explain what this is and how it benefits your borrowers?
Pate: The Resilience Impact Assessment (RIA) is an assessment we do at the beginning of our relationship with our borrowers that allows us to understand – based on NDN Fund's five areas of resilient lending focus: renewable energy, community development and housing, sustainable infrastructure, social enterprise, and regenerative agriculture – what impact they intend to have in those areas, and how our Indigenized lending approach will help them have their intended impact. Some of our lending crosses several of those areas. The key to understanding resiliency is the interplay of different strategies needed to, for example, promote a healthy main street or to bring back different industries that used to exist in the community or to create new industries. By applying this frame to our potential borrower, we can plot initially where we think there will be change because of the loan and this helps us decide if this loan aligns with our lending values and goals. We also are very "high touch" on lending and loan servicing with power-building resources provided as needed, which distinguishes us from mainstream lenders and some Native CDFIs that aren't as engaged over the life of the loan, which could be as long as seven years. But that's our commitment. We don't do any lending if we can't support the growth of the borrower in a very hands-in way all the way through the loan. When we get information from our borrowers, we're able to analyze it using the RIA and then we figure out, "Do they need additional power building from us or any consultants to help achieve their goals? Do we need to refinance the loan? Have things changed and it behooves us and them to do a different type of financing?" We're open to all of that.
"We're constantly evaluating, 'Are we making an impact? What do we need to do better? Does our target market even know we're out here? What can we do to raise awareness? Are we being as effective and are we leveraging as much in the local community as we can? How can we partner better? How do we make sure we get the right kind of entities on our board so we're seeing all the opportunities and then able to seize them?'"
NCN: Building on NDN Fund's "Resilience Impact" focus is what it calls its "Braided Capital" approach. What does this braided approach entail, why did NDN Fund design it this way, and how is it making a difference?
Pate: Braided Capital is the pairing of a loan with power-building services and products and that long-term engagement to make sure our borrowers are getting what they need. It could also include other sources of capital we're leveraging from within NDN Collective, like a grant from NDN Foundation, for example, to wrap around the loan to make sure they're getting all of the support they need financially as well as through power building. It can also mean working in tandem with an outside investor to get more dollars – whether it's equity or loans – into a community that needs it to expand their business or initiative. Because one of our values is we don't want to be the only game in town funding our borrowers. We want to attract additional capital. That's as important to us as making loans, right? It's unlocking awareness in other sectors that are investing, whether it's private philanthropy, impact investors, angel investors, and so on to understand how important it is to have a diversity of capital sources in our Indigenous communities.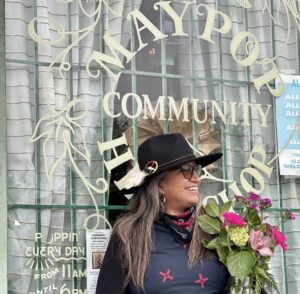 Anne White Hat, Owner of Maypop Herb Shop, an NDN Fund client. (Courtesy: NDN Fund)
NCN: While relatively young compared to many other certified Native CDFIs, NDN Fund already has helped a great number of Native clients. Is there a particular individual success story that really inspires you that you would like to share?
Pate: There's a Lakota woman named Anne White Hat who lives in New Orleans. She recently purchased Maypop Herb Shop, which ensures there are safe and affordable, traditional, holistic medicines available. It has been busy throughout the pandemic supporting not only the health of individuals in the community suffering with COVID, but also ensuring the health of caregivers and giving them a safe place to get what they need. This is a fascinating investment for NDN Fund because it allows us to take a Braided Capital approach. We've given them a loan that allowed them to expand the business and purchase a solar generator so if there is another hurricane that really impacts the community as has happened in the past, they can be a safe community hub with wifi, electricity, essential services, and medicines, of course, because that's the role Maypop plays in the community. And we've paired the loan with a power-building contract with Nativ3, an Indigenous communications company that is helping them launch a new website and brand. This is Braided Capital in action. Also, through our power-building work, we've paid to redesign their website because it was not robust enough to tap a national market of people who want to purchase their products and services. And now, it's becoming international!
NCN: From your perspective, what do Native CDFIs like NDN Fund need to realize their full potential? What types of support do they need to achieve their missions and maximize their impact?
Pate: First, we need to make sure that the CDFI Fund Native Initiatives program that has been the lifeblood of the CDFI field – in particular for Native CDFIs – is restored to the regulations that have been supporting us all along. There might even be some additional changes that would be even more supportive for us. That's critical.
Second, the research lags programs. There's a need to do innovative research projects that show the impact we're having. For example, back in the 2000s, there were interesting tax analyses done that showed the revenue that was staying in communities because of Native CDFIs and other CDFIs. I would encourage us to come back with some other hard-hitting data like that, so we don't have to wait for federal data sources to be updated to tell our story with numbers. For some audiences, that's what we need. I've been asked for this a lot and I don't have it.
Then programmatically, I have to give NCN and Oweesta major props for convening us the way they do, because it's that networking of all of our practitioners that enables us to be great. I encourage us to continue to do that.
To learn more about NDN Fund, please click here.