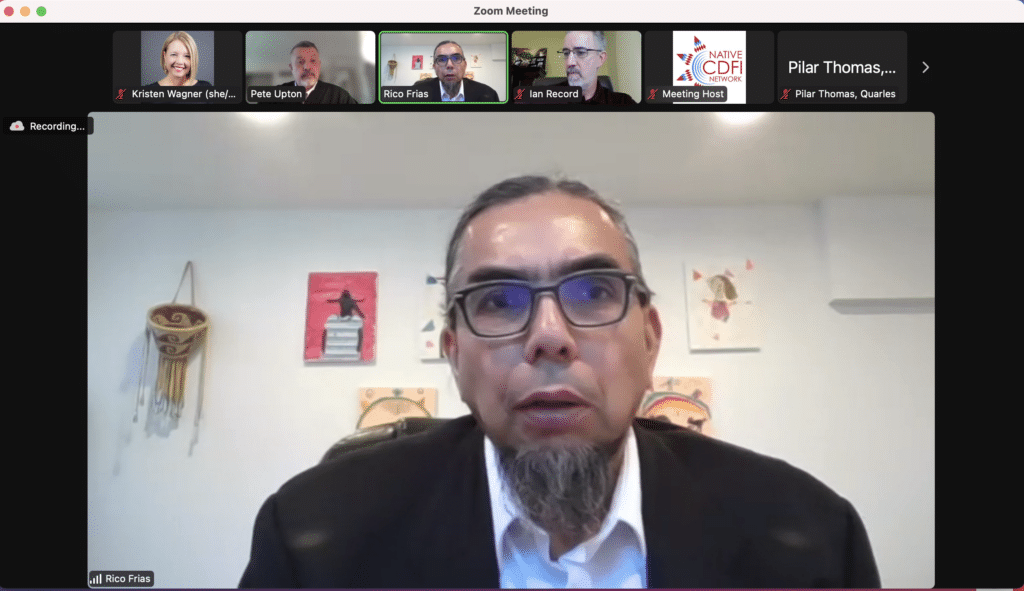 Leaders of two key Native American financial organizations met to discuss collaboration and shared goals in pursuit of economic development across Indian Country during the Feb. 23 episode of "NCN Live."
Pete Upton, CEO of the Native CDFI Network (NCN), joined Rico Frias, Executive Director of NAFOA, founded as the Native American Finance Officers Association, and Pilar Thomas, partner at Quarles & Brady, LLP.
The discussion highlighted collaboration efforts between NCN and NAFOA. Frias noted policy issues where NCN and NAFOA align, including updating the Community Reinvestment Act and tax reform related to allocating a set-aside within the New Market Tax Credit Program. Both offer opportunities to better direct funds to Native communities, he said.
Frias spoke about the federal government's relationship with Native CDFIs and tribal governments. He called for an end to competitive grants.
"All Native communities need funds to grow their economies, yet the way funding is structured, tribes and Native-led organizations must compete against one another to get it," Frias said. More flexible funding options, he added, would lead to more vibrant tribal economies.
Thomas pointed to a design flaw that creates a barrier for Native communities to access funds through the U.S. Environmental Protection Agency's Greenhouse Gas Reduction Fund (GGRF). Most Native CDFIs, she said, do not have the capacity to take on a multi-billion-dollar grant program and, therefore, can't participate in these programs.
Frias suggested GGRF needs to be redesigned in a way that allows entities of multiple sizes to access funding. This change would result in economic growth for all Native communities.
In spite of potential roadblocks, Thomas said there are ways Native CDFIs could use the GGRF to expand the types of loan products they offer. Partnering with tribes or Tribal Housing Authorities to develop solar projects on tribal-owned housing is one example. Loans could also be made to tribal members who wish to put rooftop solar on their homes, she said.
Upton said a lack of Native representation on U.S. Treasury committees and other government councils results in few awards to Native CDFIs or set-asides directed to Indian Country.
Limited representation also results in misconceptions about the needs and capacity of Native CDFIs and tribal nations, or dismissal of these groups altogether.
Frias agreed: "It's so much better to talk with us, than talk about us."
"NCN Live" hosted by the Native CDFI Network, is a series of conversations with industry experts and policymakers designed to expand the power of Native CDFIs to grow economic opportunity for Native peoples.