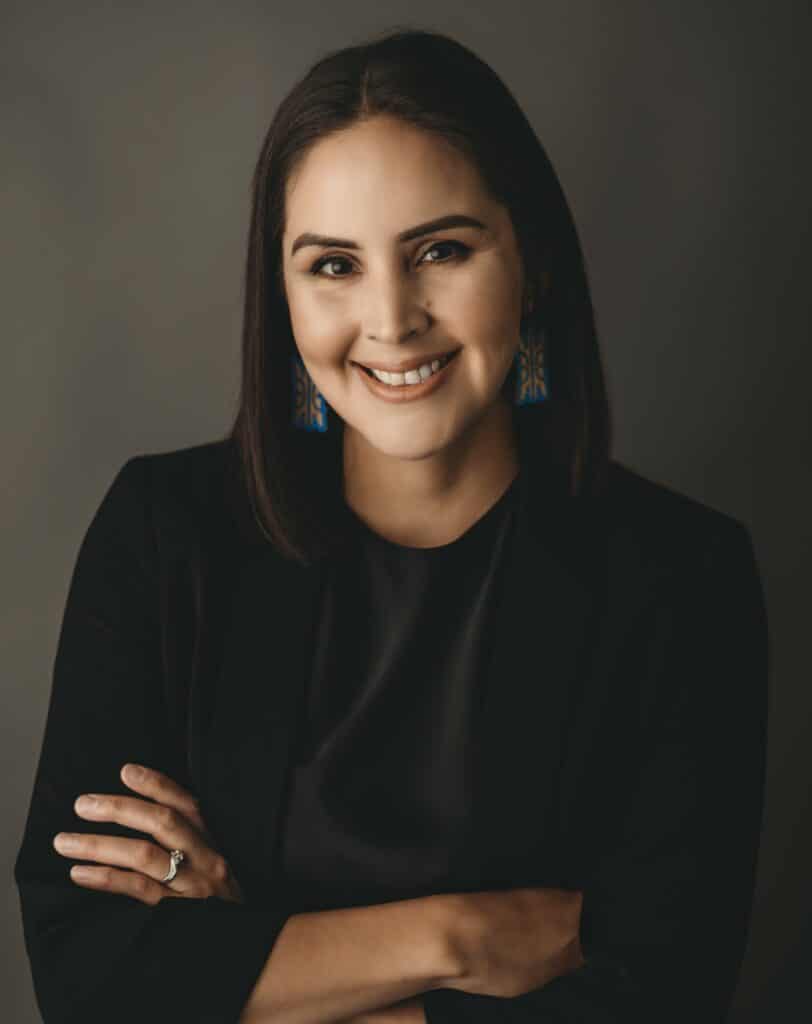 In this latest edition of "Difference Makers," NCN sits down with Pamela Boivin, who serves as Executive Director of NiiJii Capital Partners, Inc. (NiiCaP), a federally certified Native CDFI that provides alternative financing and development services for entrepreneurs and small businesses on the Menominee, Mole Lake, and Lac du Flambeau Reservations in Wisconsin.
A full-time employee with NiiCaP since 2008, Pamela also serves as Loan Officer for the organization. A member of the Menominee Indian Tribe of Wisconsin, Pamela's duties include client intake, project assessment, business plan assistance for loan applicants, loan application assistance, credit analysis for applicants, compliance reporting, and portfolio management. She also serves as Chairwoman of the Wisconsin Indigenous Economic Development Corporation, of which NiiCaP is a member. She has a bachelor's degree with honors in Political Science and is certified in Asset Building Strategies, financial education curriculum, and financial curriculum training.
In this engaging conversation with NCN, Pamela shares how NiiCaP is working to directly and indirectly strengthen the Native small business ecosystem on the three reservations it serves, and how it has banded together with three other Native CDFIs in Wisconsin to secure additional resources to meet community needs.
NCN: Greetings Pamela, it's good to have you with us today. Welcome.
Boivin: Thank you. I appreciate the invite.
NCN: So why do you do what you do? How did leading NiiJii Capital Partners become your life's calling?
Boivin: It's a whirlwind how I came to the CDFI world. I graduated in 2007 from the University of Wisconsin-Stevens Point with my bachelor's degree in Political Science. I was fresh out of college, and my sister was working next to the previous executive director's office for NiiJii Capital Partners, and he was frantically looking for an emergency administrative assistant. She just happened to say, "Well, my sister just graduated college," and he said, "Bring her in." So the next day I'm in the office interviewing with him for this emergency hire. He said, "You're in. Let's give this a whirl." Then, at the end of the 30-day emergency hire, he offered me the full-time position, and I've just been gradually increasing my responsibilities and roles since then. In 2012, he was retiring and he promoted me to be NiiJii's executive director. It's very much a testament to not of what you know necessarily, but who you know, and it's all worked out. Ultimately, I have always wanted to come back and work for my tribe and have a positive impact on my tribal community, and what better way to do that than through the mission and services of a Native CDFI?
NCN: There currently are 64 federally certified Native CDFIs across the country and more than two dozen "emerging" CDFIs following in their footsteps. Why did and why do Native communities and organizations feel it necessary to create CDFIs, and what fundamental role do they play? 
Boivin: The development of our CDFI came about through a credit needs survey done by another nonprofit. Within that survey, it identified the lack of access to capital that our communities had and how the need was going to grow exponentially in the coming years. That survey provided a template to create an organization that would help alleviate that. It just happened that the CDFI industry was booming at that time, so it was the perfect fit to bring this tool to the community and get it up and running. Our versatility and ability to strategize our services and products makes a CDFI a dynamic economic tool for our communities, from building financial literacy to the actual granting of a loan. Our communities have been very much underserved by conventional banking, and they look to us to address those gaps in their access to capital. They look to us to grow their financial sovereignty.
"Our versatility and ability to strategize our services and products makes a CDFI a dynamic economic tool for our communities, from building financial literacy to the actual granting of a loan. Our communities have been very much underserved by conventional banking, and they look to us to address those gaps in their access to capital. They look to us to grow their financial sovereignty."
NCN: What do policymakers, philanthropy, banking institutions, and the general public who aren't familiar with Native CDFIs need to understand about them and the difference they make? 
Boivin: A lot of us who work for Native CDFIs are from the communities we serve. I'm a Menominee member myself. It's easy for me to draw on my experiences growing up and have that insight to my community and witnessing the struggles that families such as myself and others have experienced growing up. It's conveying that message to the external world – understanding those barriers we have. But also understanding the diversity of our tribal and rural communities. That's always the biggest battle. For someone to understand the things we've grown up with and witnessed is always hard. In that vein, the CDFI itself is essentially a character trait of the community it serves. It ties into together – educating what the CDFI's mission is overall and how we specify that within our communities and understanding the dynamics and diversity that each different CDFI is going to possess.
NCN: So let's turn to NiiJii Capital Partners, or NiiCaP, which describes itself as "a highly specialized lending agent, offering integrated, one-stop small business loans and training programs." Can you provide details on the types of loans NiiCaP provides and why?
Boivin: We primarily do small business lending and microenterprise loans. We pair that with a range of technical assistance and enhanced technical assistance services that we determine for each client because each client is going to vary from the next client. We have to have a specific mindset and a range of expert knowledge in various areas, which will be determined differently for each client. We're looking at expanding. CDFIs have the capacity to be ambidextrous with our communities and their growing needs, and each need will be different. In a conventional world, small business and microenterprise, we have the flexibility to tailor each of those products to more specifically serve our communities.

NCN: As you mentioned, you're not a "conventional" lender. You're a "tailored" lender, meaning you don't just give a loan and then and then hope for the best. You are doing everything in your power as a CDFI through the sharing of technical assistance and development services to make sure your client is successful with that loan and NiiCaP is recouping that capital and growing to serve more people. Can you talk a bit more about the various types of technical assistance and development services you provide and how they are tailored to the specific challenges your clients face?
Boivin: You talked earlier about the importance of relationships. For us, being connected with other service providers in our community and working as a collective, as a whole economic ecosystem, is critical – where we're not the single driver in our economic missions or activities, we're working with the network of our community service providers and our community departments so we can tailor each of those technical assistance pieces with all of their knowledge and understanding to our clients' needs. We're providing a holistic range of services from building a business plan to connecting them with the services or resources out there they can access. I like to think of it as a community effort not just necessarily the CDFI you're working with. It's working with the community to make sure we're all on the same page to give top-notch training and providing the best workshops and designing the right products so we can have those specific technical assistance pieces for each of our clients and our borrowers. A lot of goes into the pre-loan services, but it's also our post-loan services. It's ensuring the sustainability of those businesses.
NCN: You mentioned the importance of working in tandem with other entities within the communities. NiiCaP serves three different reservations in Wisconsin. From your perspective, how important is it for Native CDFIs to not work on an island? NiiCaP provides a comprehensive array of services, but there may be things your clients need that you can't provide, but the tribal government, another nonprofit in the community, or maybe the housing authority can. How valuable is it in your work to have those partnerships, those open lines of communication with those other entities to make sure the clients you serve get everything they need to succeed?
Boivin: We moved from that silo thinking at least a decade ago and understood we can't be working individually. We have to work collectively if we want to really amplify our impacts in our tribal communities. So we joined with the other three Native CDFIs in Wisconsin to create a collective organization called the Wisconsin Indigenous Economic Development Corporation (WIEDC), where we all work together to secure additional resources to spearhead our mission and also educate our borrowers collectively. We each have our specific specialties and we work together to leverage those specialties. So if there's something I might not be well-versed at, I can send them to my brother CDFI in Milwaukee who has that expertise. Individually, we're strong catalysts within our communities, but collectively we're a force to be reckoned with statewide. WIEDC looks collectively at ways where we can strengthen the Native CDFI industry in Wisconsin and bring forth additional, diverse resources so we're increasing our efficiencies and bringing forth the best resources possible for our communities. To date, through WIEDC's efforts, we've secured a total of $8.1 million for our individual CDFIs, so it's been a very successful model.
NCN: One of the most intriguing features of NiiCaP's website is your "Nuts & Bolts" video series. Why did you create these videos and how are they benefitting your clients?
Boivin: These came about during the beginning of COVID when we were all isolated to our homes and we didn't have the ability to physically engage with our clients. So this was the best way. Even prior to COVID, a lot of our clients are just so busy. They're working morning to night and taking time away from their families at night to attend in-person trainings isn't ideal. So we created these "Nuts & Bolts" videos so our clients have that flexibility to view them at their leisure, but also safely at the same time. It is providing benefits still today. Our clients can view them when they have the time so they're not missing out on time with their family or cutting into their work schedules. We plan to continue to use these educational pieces for our clients.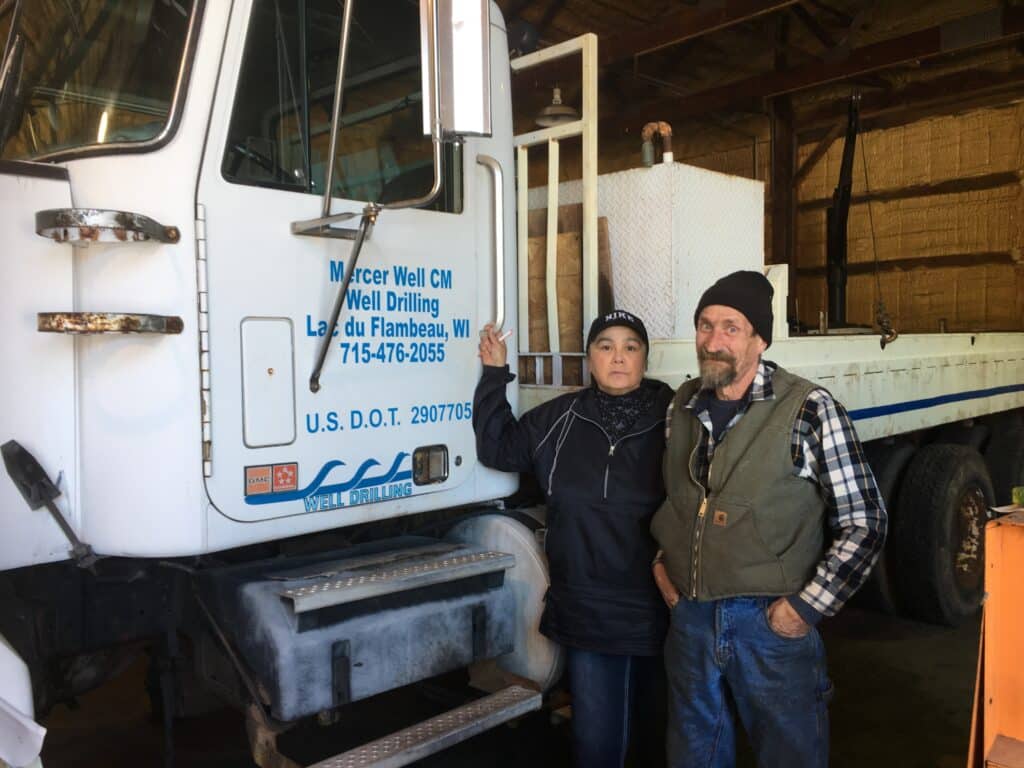 NiiCaP clients Cynthia and Frank Meshad with Mercer Well CM. (Courtesy: NiiJii Capital Partners)
NCN: NiiCaP has helped a great number of Native clients over the years. Is there a particular client success story that really inspires you that you wish to share?
Boivin: I'll share a recent one. As you know, our communities were very heavily impacted by COVID, more so than our neighboring communities because of a lot of our economic drivers are gaming related. Some tribes don't have the diversity outside of the gaming revenue, so we've been heavily impacted with unemployment, which is a big recovery effort in itself. Recently, we were able to provide financial assistance to one of our tribal entities, which is one of the major economic arms of our tribe. We provided it with financial assistance so it can modernize some of its equipment so it can become more efficient. Because when this particular entity is successful, then the supporting contractors, Menominee contractors, they'll also be able to leverage that success. By helping this Menominee tribal entity, we are going to have a direct impact on 10 to 14 other small businesses that are owned by Menominee members.
NCN: From your perspective, what do Native CDFIs like NiiCaP need to realize their full potential? What types of support do they need to achieve their missions and maximize their impact?
Boivin: We who work for Native CDFIs all understand our capacity and challenges and the barriers our communities face. But it's about sharing that story of our positive impacts on quality of life in our communities, and the quality of the systems we all must work with, which need to be strengthened. That's probably our biggest leveraging point. Honestly, we struggle to convey that story. We need to do a better job of sharing that story so we can secure additional resources and move towards sustainability. Going forward, I see the CDFI movement working towards sustainability, with the end goal to have a sustainable organization and system of services that don't necessarily have to tap into government and state resources.
To learn more about NiiJii Capital Partners, please click here.