NCN's CEO Attends NCRC Just Economy Conference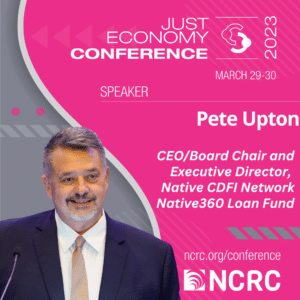 Native CDFI Network's CEO Pete Upton attended National Community Reinvestment Coalition's 2023 Just Economy Conference.
Upton participated in a panel that explored a variety of investment and grant opportunities and highlighted efforts to build wealth in Indian Country.
With banks initiating investments in Indian Country, Native CDFIs are building new relationships and leveraging resources to expand economic development and building affordable housing.
Through relationship-based lending programs that reflect community values, Native American entrepreneurs are getting access to capital.
NCN Members are Invited to a Commercial Solar Finance Two-Part Training Series
Native CDFI Network members are invited to attend a two part training series that will be held on April 11th and 18th beginning at 2:00 PM ET.
This program has been developed by the Inclusiv Center for Resiliency and Clean Energy and the University of New Hampshire Carsey School of Public Policy Center for Impact Finance, and is available to you free of charge with major funding from the U.S. Department of Energy Solar Energy Technologies Office.
CDFIs can help to bring solar energy to communities through a variety of project finance strategies – including community solar, commercial and multifamily project finance, municipal and other public projects, and financing for installers who offer solar leasing or power purchase agreements to end users.
Registration will close April 10th.
Only a Few Spots Remain in the 2023 NCN Institute Training Series!
The Bank of America Charitable Foundation's Driving Impact Webinar Series gives non-profit leaders the power to drive impact in the community by connecting them to tools, resources, and expertise, and focusing on topics such as leadership development, non-profit sustainability, industry trends and innovative approaches to economic mobility.
On April 20, Bank of America executives will discuss the intersectionality between financial and emotional wellness. Information will also be provided about learning offerings that are available to you and members of your community through The Academy at Bank of America.
During the session you will learn more about:
How financial wellness impacts your emotional health and ways to improve it through programs like Better Money Habits®

The science-backed connection between well-being and performance

Small steps to fight stress, fatigue, and burnout

Programs available to support the needs of your community
Registration will be accepted up until Wednesday, April 19. Click here to register.
Native American Agriculture Fund Announces Open Application for $11 Million
The Native American Agriculture Fund (NAAF) announced its fifth year of grantmaking and is opening a pool of $11 million starting on April 1, 2023, and closing on June 1, 2023.
NAAF will also host a series of webinars to support the General and Youth Grant application process on the following five (5) dates. Each webinar will start with a one-hour overview of the application process and then transition to a question-and-answer period. All webinar recordings will be posted and archived on the NAAF website. The dates for each webinar are found below and registration is required to participate. The webinars will offer technical assistance to applicants and provide clarification concerning applicant eligibility or focus areas for applications during this grant cycle.
General Webinars – Register Here
Thursday, April 13, 2023, 2:00 – 4:00 PM CT

Thursday, April 27, 2023, 2:00 – 4:00 PM CT

Thursday, May 11, 2023, 2:00 – 4:00 PM CT

Thursday, May 25, 2023, 2:00 – 4:00 PM CT
Youth Webinar – Register Here
Thursday, April 20, 2023, 2:00 – 4:00 PM CT
CFPB Finalizes Rule to Create a New Data Set on Small Business Lending in America
WASHINGTON, D.C. – The Consumer Financial Protection Bureau (CFPB) has finalized a rule required by Congress to increase transparency in small business lending, promote economic development, and combat unlawful discrimination. Lenders will collect and report information about the small business credit applications they receive, including geographic and demographic data, lending decisions, and the price of credit. The rule will work in concert with the Community Reinvestment Act, which requires certain financial institutions to meet the needs of the communities they serve. The increased transparency will benefit small businesses, family farms, financial institutions, and the broader economy.
The nation's 33 million small businesses employ nearly half of all private sector workers in the U.S. and account for the majority of new job creation. Operators of small and local businesses finance their enterprises through a variety of sources, including loans from banks, credit unions, and nonbank finance companies. Many of these businesses have a relationship with a local financial institution to help grow their business.
However, there is currently limited data on small business entrepreneurs' access to credit, and no comprehensive information available about small business lending. For decades, the government has assembled data pursuant to Congressional mandates on residential mortgages. Now, for the first time, data on small business lending will give investors and lenders more insights to identify new opportunities that support economic growth, help policymakers measure the effectiveness of any government programs, and provide a data-driven approach to detect potential discrimination.
The pandemic-era Paycheck Protection Program, for example, would have benefited from the kind of small business lending data that will be captured by this rule. Such data could have led to better targeted, more effective lending during the COVID-19 public health emergency.
The rule finalized today will:
Provide a comprehensive view of small business lending.

Cover diverse forms of credit by all types of lenders.

Use straightforward definitions and streamlined forms.
Click here to learn more about the final rule and the implementation plan.
CFPB to distribute more than $4.7 million to consumers impacted by nationwide student financial aid scam
If you were one of the over 78,000 people who paid College Financial Advisory or Student Financial Resource Center for information on how to pay for college, or to apply for financial aid services, you may receive a check in the mail. Payments were to be sent on March 31, 2023, through Epiq Systems. For additional questions, contact [email protected] or (855) 535-1825.
Learn more about the case and redress payments here.