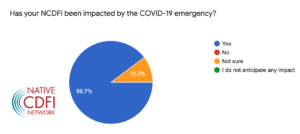 Native CDFI Network survey finds vast majority of Native CDFIs will be harmed by Coronavirus-related economic downturn
Washington, D.C. – The Native CDFI Network (NCN) announced the results of a survey of Native-serving community development financial institutions (CDFIs) today. The NCN survey found that the vast majority of Native CDFIs will be severely impacted by the coronavirus-related economic downturn.
Native CDFIs provide a wide range of services, solutions, and support for asset growth and economic development in underbanked communities across 26 states. CDFIs focus primarily on providing access to capital and financial counseling to both consumers and small businesses. Native CDFI services include small business and consumer loans, mortgages, financial coaching, and check cashing.
The NCN survey found that 86.2% of Native CDFIs make loans to businesses impacted by the COVID-19 economic slowdown. As of March 20, 2020, more than half of respondents had already been contacted by clients about restructuring loans as a direct result of the COVID-19 pandemic. Of those that would have to restructure loans, 89.7% expected the restructuring to impact lending capital (see Figure 2). A large majority (62.1%) indicated they would like to develop a strategy for contacting creditors to arrange for interest forbearance or other payment modifications.
Native CDFI Network Board Chairman stated, "Native CDFIs are already feeling the brunt of the Coronavirus pandemic's economic impacts, and these impacts will continue to grow. We all must work together to minimize the spread of the virus. At the same time, lawmakers must know that community development financial institutions are already working with consumers and small businesses in underbanked communities to minimize job losses. That is why future federal, state, tribal, and private efforts to combat COVID-19's impacts should include Native CDFIs."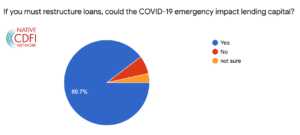 "Native CDFIs are working hard to minimize the impact of COVID-19 on Native communities and businesses across 26 states," said Jackson Brossy, Native CDFI Network Executive Director. "This survey shows that these primarily not-for-profits will need additional support very soon. Simply because Native CDFIs often work in isolated communities, does not mean COVID-19 will not impact them. We encourage governments and private donors to include Native CDFIs in your response to the COVID-19 pandemic."
As of March 30, 2020, there have been no federal responses to support emergency supplemental funding for the Treasury's CDFI Fund. Additionally, only a few creditors have offered interest forbearance.