For Immediate Release
July 22, 2020
U.S. Bishops' Subcommittee on The Catholic Campaign for Human Development Approves Strategic National Grant to provide vital support to Native CDFI Network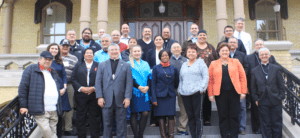 Photo: Anti-Poverty Summit attendees, including several Native CDFI Network members including: Christopher Coburn of Mvskoke Loan Fund, Sean Winters of Chi Ishobak, Pete Upton of Native Loan Fund 360, Angie Main of NACDC Financial Services, and Fern Orie of Wisconsin Native Loan Fund  –  Notre Dame University October 15-17, 2019 Photo credit: Fr. Michael Carson
WASHINGTON, DC — The Native CDFI Network (NCN) and the Catholic Campaign for Human Development (CCHD) announced a commitment through a strategic national grant to support Native American-serving community development financial institutions (CDFIs) across the country. Together, NCN and CCHD will work to support Native CDFIs who serve under-banked communities to ensure these vital institutions persevere and ultimately thrive beyond the increased economic challenges caused by Covid-19.
Native American CDFIs offer access to capital, technical assistance, financial literacy, and business training in more than 70 communities across 27 states. Native CDFIs work to leverage external funds and increase access to credit and opportunity for customers in credit deserts.  The Native CDFI Network is the only member organization exclusively representing and governed by Native American CDFI executives. The Catholic Campaign for Human Development (CCHD) is the domestic anti-poverty program of the U.S. Catholic Bishops and has a complementary mission of educating on poverty and its causes. CCHD has a history of supporting Native CDFIs across the country.
NCN Chairperson Pete Upton stated, "we are fortunate to partner with CCHD through these grim times of the COVID pandemic. Native CDFIs across the country are on the front-lines of the economic downturn, and we appreciate our partners who support these important institutions. NCN looks to empower our members, so we will emerge from this storm to continue and serve our communities. It's incredible to have an ally like CCHD step up and support Native CDFIs in these unprecedented times."
Bishop David G. O'Connell, auxiliary bishop of Los Angeles and chairman of the CCHD subcommittee said, "For the last 50 years, CCHD has supported projects that empower low-income communities to address systems and structures that perpetuate poverty. Over the last several months we have seen the coronavirus pandemic disproportionately impact Native American communities throughout the United States. This strategic national grant will provide vital assistance to the Native CFDI Network as they continue their important work supporting and empowering Native American families and communities."
The Catholic Campaign for Human Development's investment is to help Native CDFIs navigate the increased challenges resulting from the pandemic and the increased strains on Native CDFIs and their consumer and small business customers. A March NCN study found that more than half of Native CDFIs had already been contacted about restructuring loans early in the pandemic. Four months later, challenges facing Native CDFIs have grown tremendously. COVID-related economic problems in already poverty-stricken areas have forced Native CDFIs to defer loan payments, restructure loans, and increase loan loss reserves. Further complicating matters, the vast majority of Native CDFIs have been deemed ineligible to assist their clients with federal support efforts such as the Paycheck Protection Program (PPP), a tool that otherwise could help these financial institutions.
"We appreciate CCHD's support for Native CDFIs across the country. As federal responses did not incorporate Native CDFIs, it is great to partner with allies such as CCHD. CCHD and our partners support Native CDFIs and ensure these engines of economic growth in underbanked areas continue to support Native American consumers, small businesses, and entrepreneurs," said Jackson Brossy, NCN Executive Director.
More information on the Catholic Campaign for Human Development can be found at:
http://www.usccb.org/about/catholic-campaign-for-human-development/
More information on the Native CDFI Network can be found at:
facebook.com/nativecdfinetwork/ or www.nativecdfi.net
Contact: Jackson Brossy (Diné) [email protected]