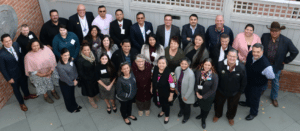 Photo: Native CDFI Network Annual Policy Summit Attendees 2019; Credit Sam Levitan 
PRESS RELEASE: Native CDFI Network Hosts First Virtual Annual Policy & Capacity Building Summit
Washington, D.C., August 25, 2020 – The Native CDFI Network (NCN) is hosting their Annual Policy & Capacity Building Summit virtually for the first time this fall. From September 22 to September 24, NCN will host community leaders, elected officials, and more for in depth discussions on creating and promoting access to capital and resources for Native peoples.
The conference will run from 1 P.M. EST to 2:30 P.M. EST for all three days, and will include a number of issue specific working groups and breakout sessions to the address unique and diverse needs of Native CDFI's across the country.
"While NCN would love to have our conference in person and connect face to face, we're excited for this new opportunity to bring our work and support to people across the country," said Jackson Brossy, Executive Director of NCN. "This will be our first virtual conference, and it will provide a great opportunity for our CDFI's to connect with one another and to find ways that we can further support each other and our communities."
Registration for the conference is $50, and is open to the public until September 18. Member Native CDFIs in good standing will have the registration fee waived. Those interested can register here.
###
The Native CDFI Network seeks to create opportunities to share our stories, identify our collective priorities, and strengthen our industry. In addition, the Native CDFI Network works to ensure that Native peoples are represented in the national policy dialogue and innovative solutions created by CDFIs are spread throughout our Native communities.