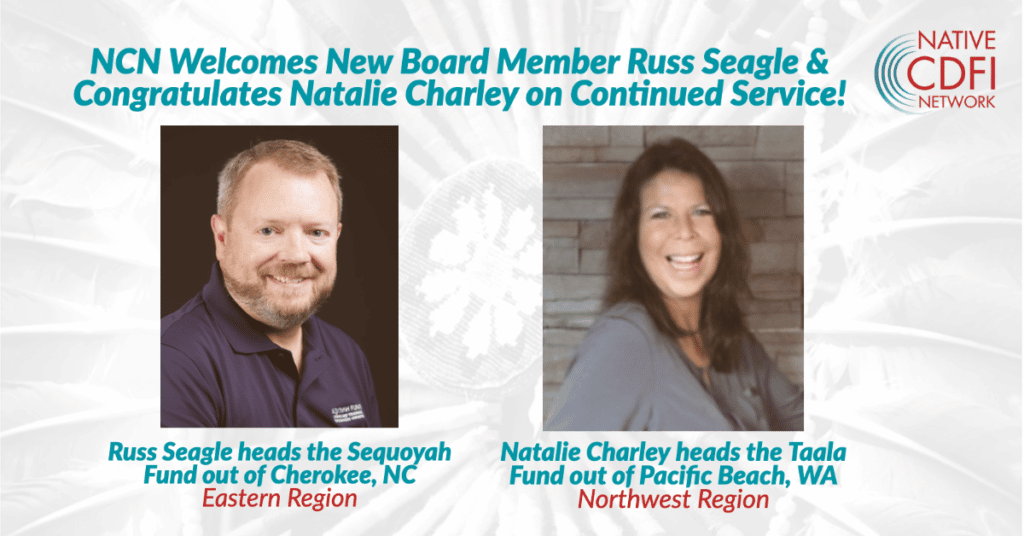 Washington, DC (April 20, 2021) – Today, the Native CDFI Network announced the reappointment of one existing and the addition of one new proven Native CDFI executive to its Board of Directors: Natalie Charley, Executive Director of Taala Fund who will continue to represent the NCN Northwest Region; and Russ Seagle, Executive Director of the Sequoyah Fund who will represent the Eastern Region.
"We are excited to have the expertise and vision of Natalie Charley and Russ Seagle on our Board of Directors," said Jackson Brossy, Executive Director of the Native CDFI Network. "As the Native CDFI movement continues its growth and resilience in the face of Covid, it is a great blessing that Ms. Charley will continue her service with NCN. Likewise, we welcome Mr. Seagle's voice and expertise to our board discussions and strategy. Native CDFIs have stepped up remarkably in the face of the pandemic, have taken on additional challenges, and responsibilities, and now our members are poised to continue their great work as the country recovers together."
About the Board Members
Natalie Charley, Taala Fund – Northwest Region
Natalie is the founding Executive Director of Taala Fund, located in Pacific Beach, WA, and a Native CDFI since 2009. She has a Bachelor's degree in Business Administration and was the lead in Taala Fund's start-up. She has prior experience as an education manager, seafood plant general manager, policy advisor, marketing director, and business consultant. Ms. Charley also served as a member on the Quinault Tribal Council. She was co-founder of a regional nonprofit organization,Potlatch Fund," and was also on their board.
Russ Seagle, Sequoyah Fund – Eastern Region
Russ is the Executive Director of The Sequoyah Fund, Inc., located in Cherokee, NC. The Sequoyah Fund offers commercial loans, training, consulting, and coaching to small businesses located on the Qualla Boundary and the seven westernmost counties of North Carolina. In addition to lending and training, The Sequoyah Fund provides support services for Cherokee artists, fundraising programs for nonprofits and youth organizations, shared office space to local businesses, a savings program and financial literacy education for local children, and youth entrepreneurship education and summer camp.
About NCN
The Native CDFI Network (NCN) was formed in 2009 to unify Native CDFIs serving Native trust land communities, American Indians, Alaska Natives, and Native Hawaiians. NCN seeks to create opportunities to share our stories, identify our collective priorities, and strengthen our industry. In addition, the Native CDFI Network works to ensure that Native peoples are represented in the national policy dialogue and innovative solutions created by CDFIs are spread throughout our Native communities.