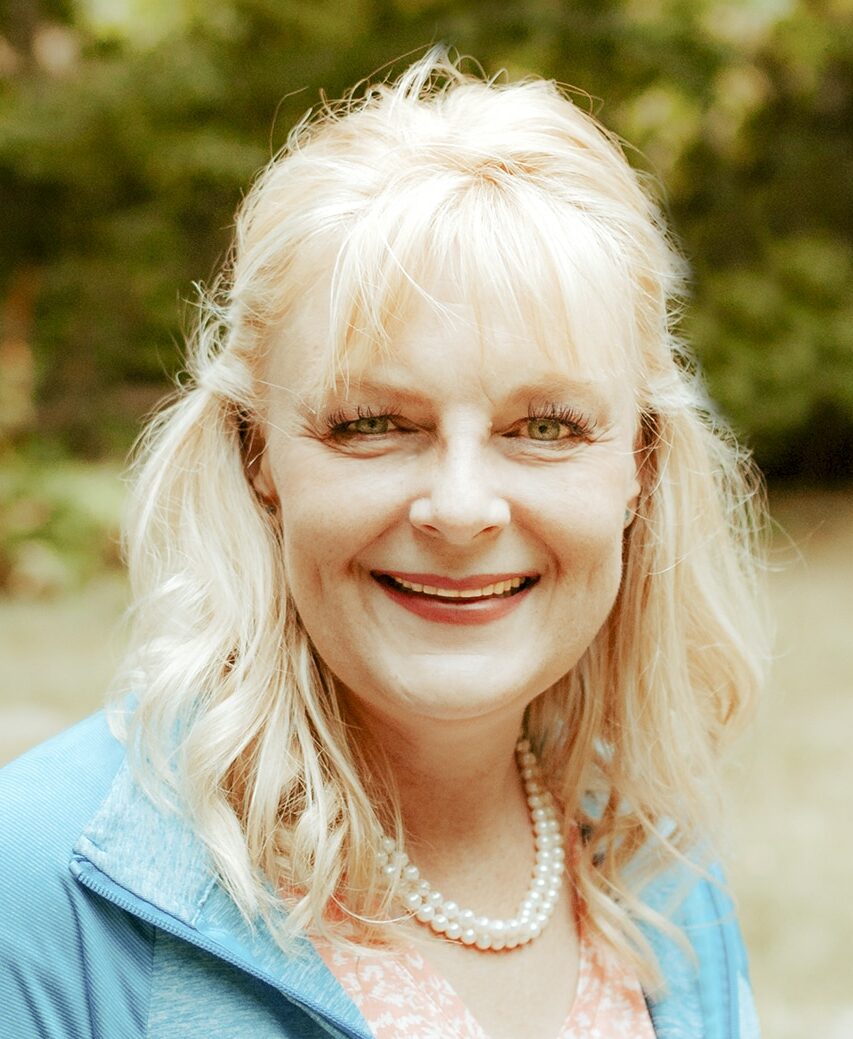 In this latest edition of "Difference Makers," NCN sits down with Tamra Marlowe, who serves as Executive Director of Chehalis Tribal Loan Fund (CTLF), a federally certified Native CDFI based in Oakville, Washington. Established in 2007, CTLF serves the Chehalis Tribal people and surrounding community through multiple forms of assistance and support, including financial education, business development training and resources, home and auto buyer's workshops, and asset building through loans for small businesses, debt consolidation, credit building, home improvement loans, and rental assistance.
Marlowe previously served as a CTLF Board Member and is a longtime supporter of the Chehalis Tribe and surrounding community. Raised in a family-owned business, she has a passion for building generational economic stability through business ownership. She has been a licensed home loan officer since 2005.
In this wide-ranging conversation with NCN, Tamra shares how CTLF cultivates small businesses in and around the Chehalis community, and how the organization is growing its financial education programs to focus on critical issues like how to avoid predatory lending.
NCN: Greetings Tamra, it's good to have you with us today. Welcome.
Marlowe: Thank you for having me.
NCN: So why do you do what you do? How and why did you come to lead the Chehalis Tribal Loan Fund?
Marlowe: I have been in the financial sector for many more years than I want to admit, but at least 20 years. I started out with big banks and insurance companies, and just by way of searching for more meaning, more relevance, and more impact in what I was doing I ended up here. So, you might think I went from big to little, but I actually think I went from big to little rising up! Some of the most disappointing experiences I had as a banker with the big banks was telling someone we couldn't help them because they didn't fit in the box, because they didn't have a long enough credit history, because five years ago they forgot to return some equipment for their cable service and it is keeping them from opportunities. So as my journey progressed, I started searching for organizations with more heart, if you will, moving from big banks to community banks to credit unions to working for a non-Native CDFI. That's how I met the then-CEO of the Chehalis Tribe's casino, who connected me to the Tribe. My personal journey has really been searching for an opportunity to use my expertise in a meaningful way and this is the ultimate meaningful way.
"Having local access to financial education and 'makes sense' lending is critical, because not everybody fits in the box of what traditionally is required. Maybe someone's income comes from selling fireworks in one season and harvesting berries in another – economic pursuits non-Native Americans may not identify with….So why not have access to the same level of services, tools, and resources available to non-Native who live in urban areas?"
NCN: As you know, there are more than 70 federally certified Native CDFIs across the country and many more "emerging" CDFIs following in their footsteps. Why did Native communities feel it necessary to create CDFIs, and what fundamental role do they play?
Marlowe: The Confederated Tribes of the Chehalis Reservation, otherwise known as the Chehalis Tribe, like many tribal nations are limited in resources in many ways due to our rural location. The fact we are 45 minutes from a suburb limits our community's access to fair lending, financial education, and business resources and tools. We also deal with a lack of broadband. Having local access to financial education and "makes sense" lending is critical, because not everybody fits in the box of what traditionally is required. Maybe someone's income comes from selling fireworks in one season and harvesting berries in another – economic pursuits non-Native Americans may not identify with. These are viable sources of income that contribute to household resources. So why not have access to the same level of services, tools, and resources available to non-Natives who live in urban areas?
NCN: What do policymakers, philanthropy, banking institutions, and the general public who aren't familiar with Native CDFIs need to understand about them and the difference they make?
Marlowe: Trying to have a 30-second elevator speech about who we are and what we do is really difficult because I have to spend two minutes describing what a CDFI is. There needs to be from the highest levels of leadership – whether it's political, business, or community leaders – an understanding of what a CDFI does for a community. Then there is understanding what a Native CDFI is – which is about providing the financial resources, while also respecting the culture and the heritage of the people. Understanding, for example, how some folks work seasonally or that multiple family members may contribute to the household resources and income. That gives a different picture than if you're just considering the credit worthiness of the one person who's in front of you looking for assistance.
NCN: Let's turn to Chehalis Tribal Loan Fund. What is the Fund's mission, and how does it work every day to carry it out?
Marlowe: Our mission traditionally has been to empower tribal members to achieve financial, educational, and entrepreneurial support. However, our bylaws state that we serve not only Chehalis Tribal members, but other Native Americans and the local rural population. Until now, that hasn't been well known because like many other CDFIs, we struggle with not having enough resources or staff members to do marketing and outreach. We now have moved into "Paving the way to financial empowerment through education, coaching, and fair lending," making sure we are being as inclusive as we can while prioritizing outreach and services for Chehalis Tribal members and their families.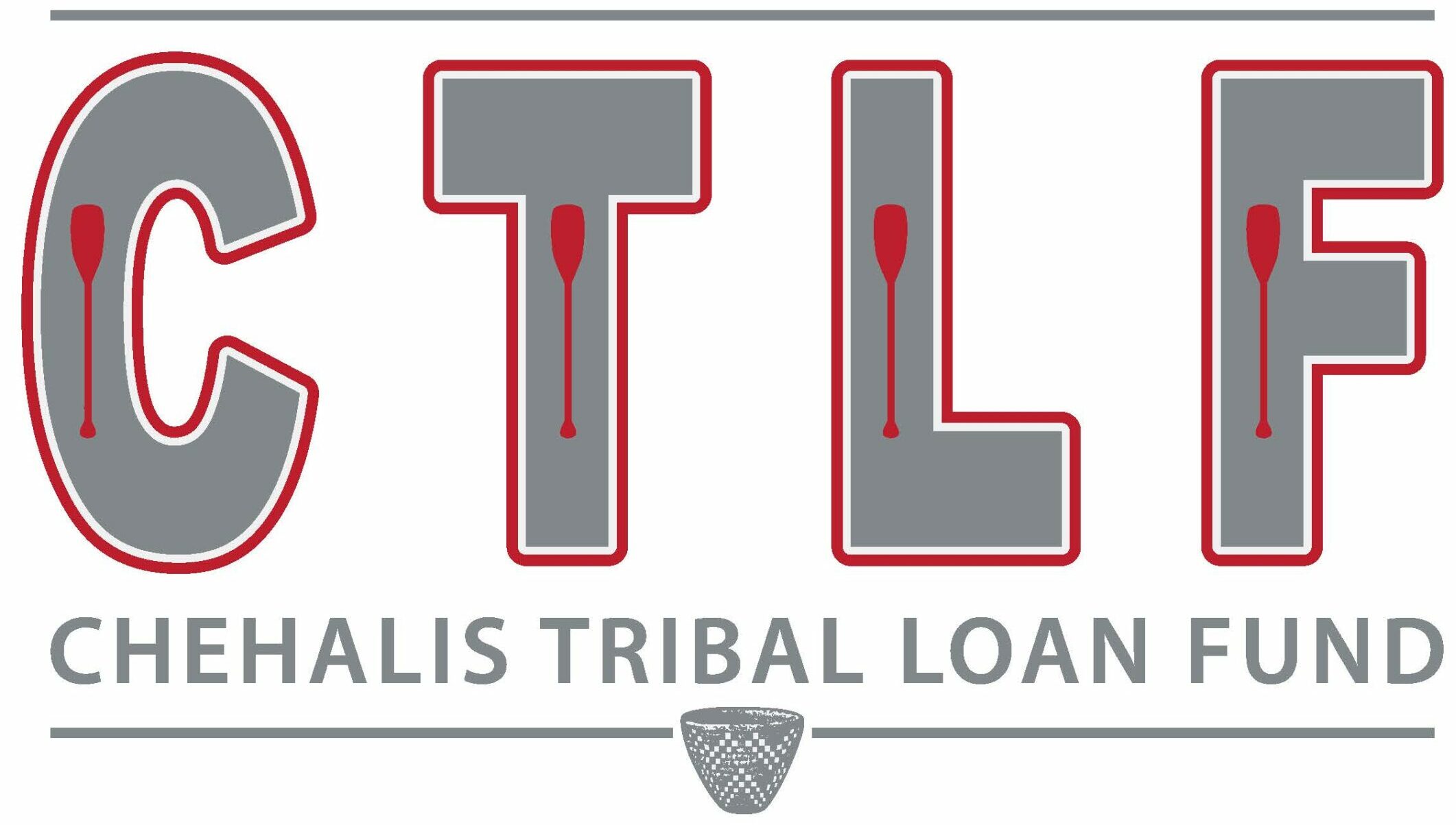 NCN: For years, the Chehalis Tribe and its members have come together on annual basis to raise money for the Chehalis Tribal Loan Fund. What does that say about the Tribe's view of the importance of having a Native CDFI serving its people, and how have those dollars helped it to grow?
Marlowe: The Loan Fund was originally established by the Chehalis Tribe, which recognized this was a needed service for Chehalis Tribal members, and we have expanded from there. There is proven success – people who have been able to start businesses and become successful, people who have been able to rebuild their credit and build their financial strength. Tribal members and other community members have benefited from our homeownership workshops, where based on the education we've been able to provide, they've become homeowners.  Of course, there's always opportunity to do more. Chehalis Tribal leaders recognize the value CTLF has provided. We are able to be innovative and we have an opportunity to create a positive, impactful ripple effect that can be an example of how a small group of people can do phenomenal things through partnerships and perseverance. I think that's why they support us.
NCN: How does the Loan Fund support small business development and growth in the community?
Marlowe: The original goal of establishing the Loan Fund was to help small businesses. Many tribal members have fireworks stands each year. It's a significant business venture, so helping them excel and continue to grow in their expertise in that field and their ability to create revenue is key. We also help aspiring entrepreneurs. It's hard to start a business. It's hard even to know how to start, much less to have the money to start. You can give somebody a loan, but if they don't know how to create revenue, how to market the business, or how to make sure they're set up properly, then they're not going to be able to pay the loan back. The "build it and they will come" concept is not the best way to go, so we are heavily invested in helping business owners. We are now creating a small business incubator and accelerator where we will have laptops and technology for a shared workspace, because the lack of broadband makes it very difficult for someone to sit at home on their computer and be productive.
NCN: Just this month, Chehalis Tribal Loan Fund participated in the Chehalis Tribal Financial Freedom Conference. Why did the Tribe host this conference and what role did the Loan Fund play?
Marlowe: The idea is the brainchild of the Tribe's CFO who recognized the tremendous amount of informational resources available from financial firms and vendors that serve the Tribe. The resources are significant and those firms want to share and help educate our community members. So bringing everyone together in one big event gives opportunity for folks to learn about the financial resources available to them. There were nine different presenters throughout the day with several opportunities for people to attend one session or another. CTLF's presentation was about predatory lending and how to avoid the debt trap. We hope that people who attend will then come to us for one-on-one assistance.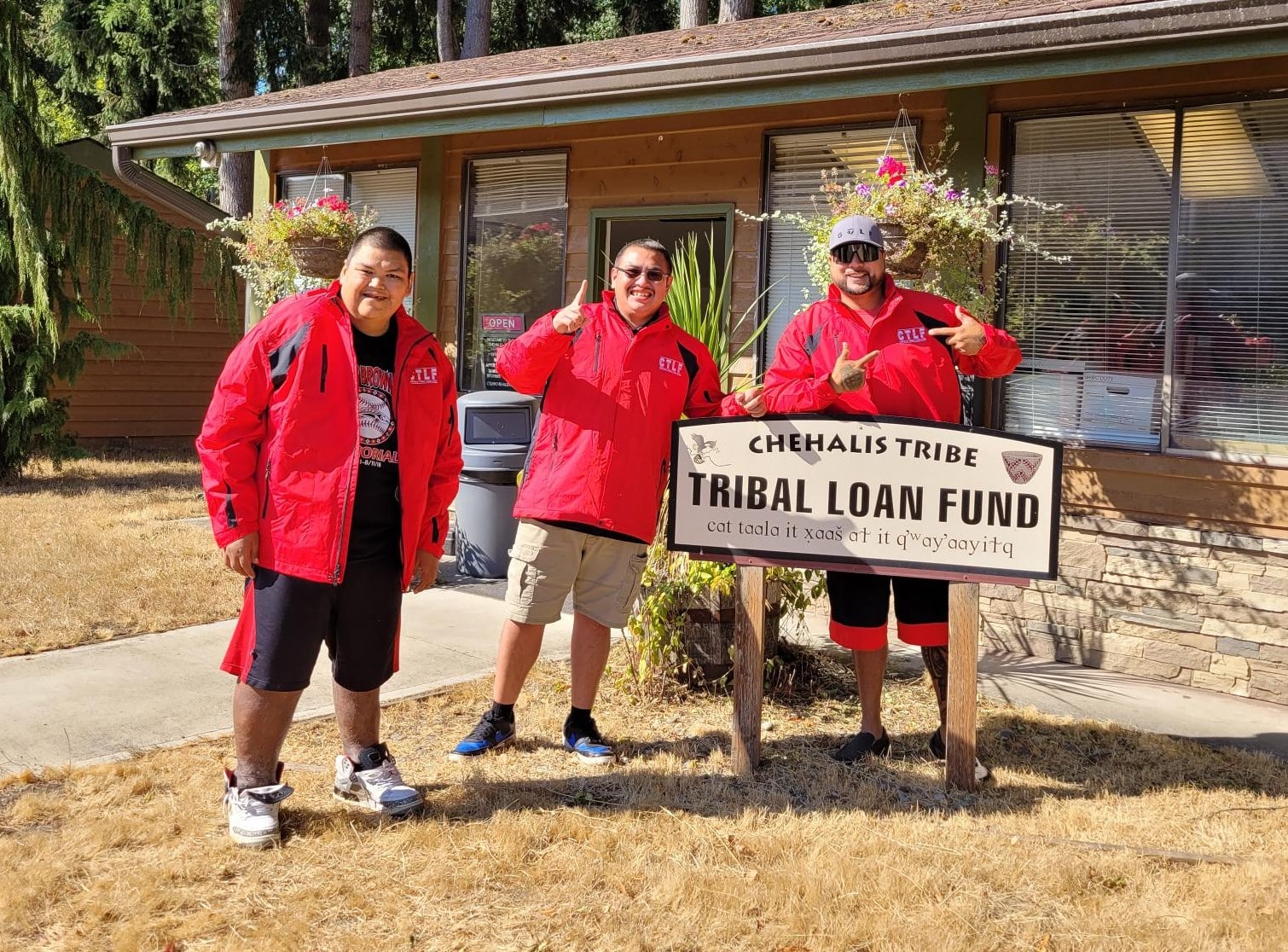 Guy Youckton, Ben Starr III, and Dustin Klatush celebrate after winning CTLF's annual golf tournament fundraiser. (Courtesy: Chehalis Tribal Loan Fund.)
In fact, we are working on several programs focused specifically on how to avoid predatory lending. With our rural location, everyone must have a car. They need some sort of transportation because there's no public transportation here to speak of. If you must have a car and you haven't had access to empowering information about how to shop for a vehicle, let's face it, sometimes the car dealerships don't have your best interests in mind. We have people who have responsible credit usage, they have great credit scores, but they're paying 19.99% on an automobile because they didn't know they had other choices. Then the car breaks down 3-6 months later. That has a huge negative impact on the individual, their family, and the community
NCN: Chehalis Tribal Loan Fund has helped a great number of people. Is there an individual client success story that really sticks out to you, that really inspires you?
Marlowe: I have a favorite one that warms my heart so much. A Chehalis Tribal member is proficient in "dirt work" – heavy equipment, heavy machinery – and volunteers at the cemetery when this type of work is needed. He volunteers his time and typically rented the equipment to get the job done. He also volunteers his time and use the rented equipment for other community needs. CTLF was there to help him purchase an excavator, and now he has his own equipment to do volunteer work at the cemetery and he also now contracts his services to supplement his income.
NCN: From your perspective, what do Native CDFIs like yours need to realize their full potential? What support do they need to achieve their missions and maximize their impact?
Marlowe: Monetary support. I'm sure almost every nonprofit that you talk to, much less Native CDFIs, need monetary support. We do what we can with the little bit we have, but you've got to be able to pay people a living wage. You've got to be able to have operational support so you can provide relevant education and you can thoroughly and accurately underwrite loans to protect against potential losses. The support is imperative. Lately there's been a great focus on supporting organizations like ours, and I'd like to see that continue.
To learn more about the Chehalis Tribal Loan Fund, please click here.