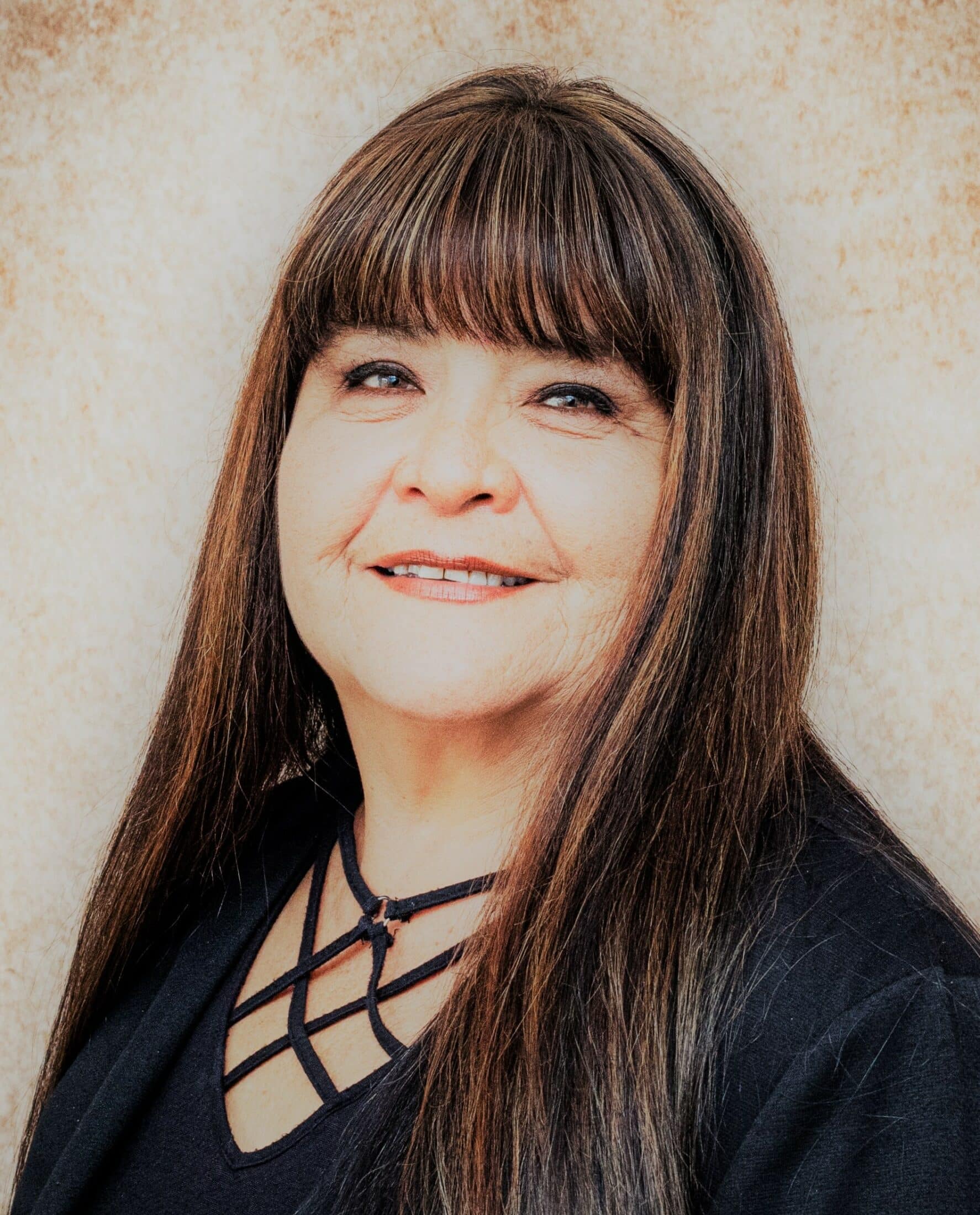 In this latest edition of "Difference Makers," NCN sits down with Colleen Steele, who serves as Executive Director of Mazaska Owecaso Otipi Financial, a federally certified Native CDFI located on the Pine Ridge Indian Reservation in South Dakota. Serving members of the Oglala Sioux Tribe living on or near Pine Ridge as well as enrolled members of other federally recognized tribes in South Dakota, Mazaska's mission is to create safe and affordable housing opportunities by providing loans, training, and financial insight to empower Native people to build assets and create wealth.
Steele began her career at Mazaska in 2004 as a loan officer and was the organization's first full-time employee. Since becoming Executive Director in 2010, she has increased Mazaska's loan volume more than three-fold and helped the organization access three new funding sources. Prior to joining Mazaska, she worked for a variety of programs and organizations on Pine Ridge. In 2011, she was chosen to participate in the CDFI Fund's "Leadership Journey: Native CDFI Growth and Excellence" program, a capacity building initiative designed to support the continued growth and long-term sustainability of experienced Native CDFIs by providing the forum, tools, and resources for a select group of Native CDFI leaders to identify and address the critical challenges of their organizations.
In this wide-ranging conversation with NCN, Colleen shares her two decades assisting Native people with achieving their homeownership dreams, and she stresses the importance of relationship building as a key to Native CDFIs' success.
NCN: Greetings Colleen, it's good to have you with us today. Welcome.
Steele: Thank you. It's an honor to be here today to tell Mazaska's story.
NCN: So why do you do what you do? How did leading Mazaska become your life's calling?
Steele: I love my job! I have since I began as Mazaska's first loan officer and I was learning my job from the ground up. I have so much passion for the work because I get to work directly with the families here on the reservation. At Mazaska, I love what we do to help the people. Seeing the joy and accomplishments of our families who become homeowners makes it all worth it. Our families are succeeding where there was little opportunity before there was a Native CDFI housing lender on the reservation.
NCN: As you know, there are more than 70 federally certified Native CDFIs across the country and many more "emerging" CDFIs following in their footsteps. Why did Native communities feel it necessary to create CDFIs, and what fundamental role do they play?
Steele: Most communities across the country don't experience the persistent poverty we do, so mainstream financial solutions haven't worked very well for us in the past. Also, a lot of our people don't trust banks. I had an elder lady say to me once, "They steal from you." Building relationships and trust with them is really important. At Mazaska, we work to build trust and respect with our clients and the community and have therefore become a resource for families needing our assistance. In addition, being a financial institution that understands our sovereign nation status and how it affects our borrowers is very important. You need to have both the business model and the commitment to relationship building.
"Most communities across the country don't experience the persistent poverty we do, so mainstream financial solutions haven't worked very well for us in the past. Also, a lot of our people don't trust banks…At Mazaska, we work to build trust and respect with our clients and the community and have therefore become a resource for families needing our assistance."
NCN: What do policymakers, philanthropy, banking institutions, and the general public who aren't familiar with Native CDFIs need to understand about them and the difference they make?
Steele: Like I mentioned before, it's about the relationship building that outside entities can't always do successfully. Because of the history of our communities, we have a hard time trusting outside entities, especially with our assets. But Native CDFIs are proving to outside partners that they are safe and sound investments. For example, the model of Native CDFIs working with outside partners to make positive community impacts has produced a lot of achievements. And then there's the USDA Section 502 Housing Direct Loan demonstration project, which has been incredibly successful.
NCN: Let's turn to Mazaska. According to your website, Mazaska's vision is "to help the Lakota Oyate (your community) regain their rightful status living in a clean, comfortable, safe, and sustainable environment by providing homeownership and renovation opportunities." How does Mazaska work every day to realize that vision?
Steele: We provide the training, financial education, one-on-one coaching as well as the financing. We meet people where they are at. And they're always welcome to come back in if they have any questions. We have a very dedicated team from the community that works hard every single day to provide training, education, and financing so our Native families can succeed.
NCN: In researching Mazaska in preparation for our conversation, we were struck by the breadth and frequency of the financial literacy and homebuyer education classes you offer to community members. Mazaska even does a regular educational spot on KILI Radio, Oglala Lakota's radio station. Why such a heavy focus on this?
Steele: Education is very important, and our outreach helps the community understand what we offer. We know families are struggling in this economy even though they are doing everything right. Mazaska is committed to playing a role in homeownership and asset building and we want our people to know about it. A lot of our people, when they come through our doors, they have no financial education and no idea about what the homebuyer process involves. So we try to get it out there as much as we can. We also do financial literacy education for youth. One of my staff went to Crazy Horse and did financial literacy class with 28 students, which was awesome, and now she's going to the schools to promote financial literacy with the seventh and eighth graders, because it's kind of like a lost thing here. Our people will buy cars at 29-30% interest and they have no idea what they're getting themselves into. We have a lady that purchased a car and she had it for a year. We pulled her credit. She had paid $1 in principal in that year. She had no idea. So we really work to get that education out there.
NCN: Recently, Mazaska was one of two Native CDFIs – along with Four Bands Community Fund – to participate in the USDA's Section 502 Native Home Loan Demonstration Project. Why did Mazaska decide to participate in this demonstration project and how did it enable you to move the home ownership needle in and around Pine Ridge?

Steele: Originally, Mazaska was assisting USDA in packaging loans on the reservation. The process was still taking too long for families who had urgent housing needs and would often drop out of the process. During the demonstration project, we worked closely on a daily basis with the Oglala Sioux Tribe's Land Office, BIA Realty, and the BIA Housing Improvement Program to close loans much more quickly and help our people achieve that homeownership dream. Participating in the project made sense because we were able to gain direct access to long-term, low-cost capital to be able to provide this service. We are always looking for low-cost loan capital, and this is excellent because it's 1%. We also go out of our way to help our clients get down payment assistance. We do everything we possibly can to make their homes more affordable. With this 502 money, we can get more families in homes. I hope Congress does it for everybody.
NCN: Mazaska also has a specific focus on supporting Native veterans, and it even went as far as to develop a "Veteran's Guide to Homeownership" tailored to the needs of Native veterans at Pine Ridge. Why this targeted focus on Native veterans?
Steele: Because we were running into the same kind of issues with our people navigating the Native American Direct Loan (NADL) program at the U.S. Department of Veterans Affairs (VA) as with the USDA Section 502 program. Our first veteran worked with NADL for two years trying to get his home. He came to us and we got him in his home in three months. We worked with NADL and packaged the loan and did the loan and then at the end of the loan NADL paid us back. They came down and did the inspection, it passed, and then we got our funds back. It worked out perfect. With the veterans, it's really sad because they just have a hard time getting any kind of loan – I don't know if it is the trust land issue or what it is. NADL was having a hard time getting the loans in a timely fashion so we work with them and we have a few in the pipeline right now that we're working to get done. It's just great when we can get them into homes in 3-6 months and not two years.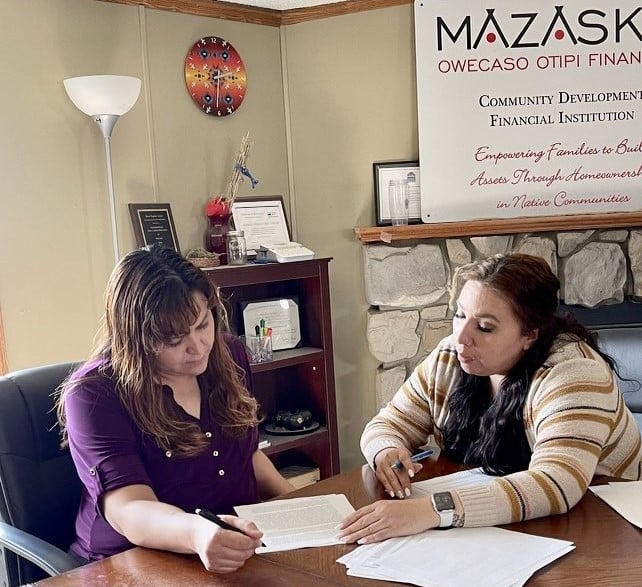 Mazaska client Melanie Apple (left) works with Mazaska Loan Officer Stephanie Provost. (Courtesy: Mazaska Owecaso Otipi Financial)
NCN: Mazaska has helped a great number of people. Is there an individual client success story that really sticks out to you, that really inspires you?
Steele: Melanie Apple is a single mother that works to provide for her children. She worked for about six years to become a homeowner. She lost her previous home to a fire and struggled to obtain financing from banks due to the large down payment requirements. They wanted 20% down, and that was not going to happen. So she worked hard to build her credit and got a loan through Mazaska. She was excited to finally provide a safe and secure home for her family. In Melanie's words, "The best part through the whole process was getting the experience of a lifetime watching our home being built from the first dig of dirt to the basement to the rest of the home then being constructed. It was such an amazing sight to watch it happen knowing it was all for my family and I, especially after losing our home and having to start all over."
NCN: From your perspective, what do Native CDFIs like yours need to realize their full potential? What support do they need to achieve their missions and maximize their impact?
Steele: It will always help to improve our lending processes through land and realty and court improvements. Savings programs to help families save for that homeownership down payment are really important, too. We have been creative accessing down payment assistance and that kind of creative partnering needs to keep happening. Patient capital and investment will be key in the future for us to continue our work both in providing education and financing to our people.
To learn more about Mazaska Owecaso Otipi Financial, please click here.