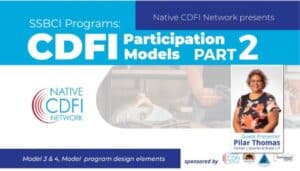 Native CDFI Network hosted part 2 of its CDFI Participation Models presentation. Sovereign Council of Hawaiian Homestead Associations, and Clearinghouse CDFI partnered to co-host the second webinar for Tribal Nations and Native CDFIs on accessing the State Small Business Credit Initiative (SSBCI) Program.
Legal expert, Pilar Thomas presented SSBCI key program updates, the summary of programs, policy guidance requirements, participation models (hybrid and partnerships), and program design (application and implementation).
Pilar provided a hybrid model graphic to show the various potential relationship configurations within the SSBCI Programs. Finally, the webinar concluded with Pilar describing the next steps that Tribes should be taking to complete their application process.
View the session in its entirety below.