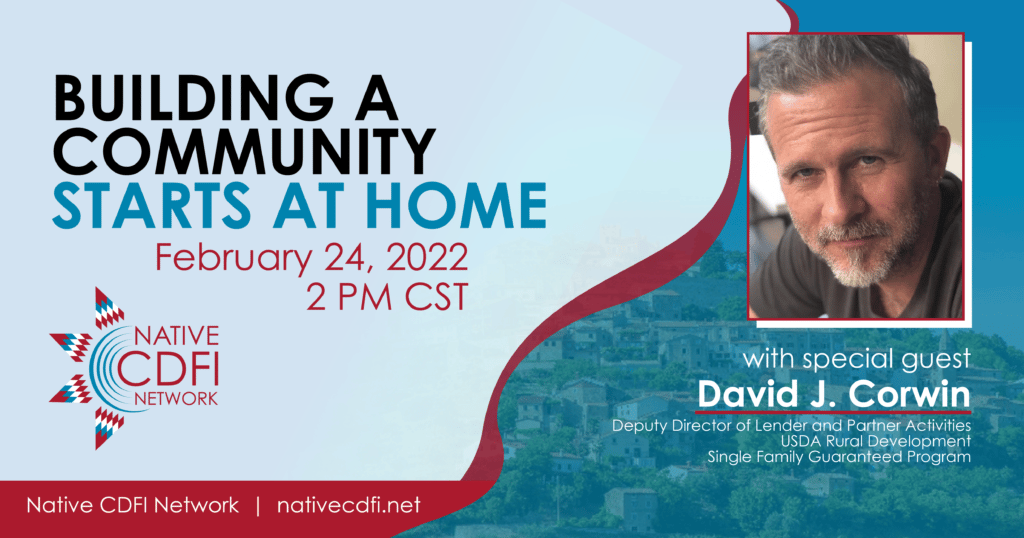 On Thursday, February 24th, 2022, Native CDFI Network hosted David J. Corwin, Deputy Director of Lender and Partner Activities for the USDA Rural Development Single Family Guaranteed Program, for an informational meeting. During this presentation, David discussed using the Section 502 USDA Single Family Housing Guaranteed Loan Program to help in expanding successful homeownership for reservations and creating new construction on tribal trust land. This USDA Rural Development program is an existing program that provides 100% financing for eligible borrowers in rural areas and utilizes generous underwriting criteria.
In addition to discussing loan program benefits, David also touched on eligibility prerequisites. These requirements included the property being located in an eligible rural area and having a total household income within program limits.
The Native CDFI Network has been actively involved in providing support for Tribes and Native CDFIs that support the implementation of economic recovery efforts of our Tribal nations and our Native-owned small businesses.
Download the entire presentation here
Building A Community Starts At Home: David J. Corwin
View the session video in its entirety below.